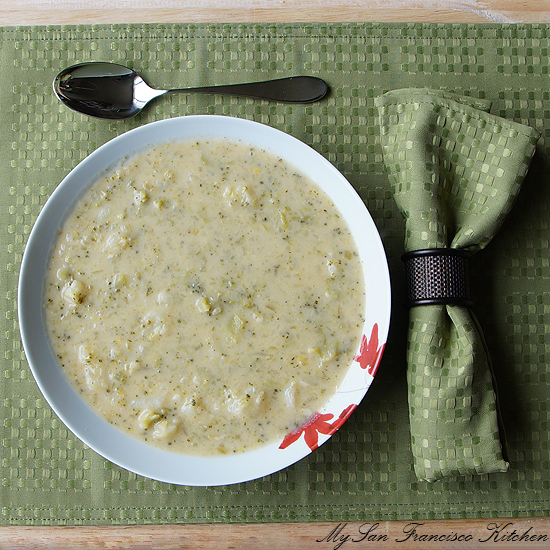 Last week I went to one of my favorite places in the world – ok well, favorite food related places in the world – the Farmers' Market! We are lucky to have several here in San Francisco. Actually, there are a few going on around the city almost every single day! I bought a lot of organic produce, and decided to make a potato and broccoli cheese soup. I have never been very fond of broccoli, but when it is mixed together with cheddar cheese and potatoes in a soup, magic happens. You will barely notice you are eating broccoli! Next time I think I will add carrots as well, but the broccoli and potatoes are definitely satisfying on their own in this soup recipe. I used my new Kitchen Aid Food Processor that my mom and dad gave us for our wedding – that thing is amazing for soups! It does all the chopping for me 🙂 Amazon usually has great prices for kitchen appliances, so if you are looking to get one sometime check there first.
I went to a different Farmers' Market this time and discovered this amazing German bakery. When I go back next time, I will definitely buy three times a much bread as I did because Fabi and I ate everything in 24 hours :/ Find out where your closest local Farmers' Market is – you might be surprised and have one right down the street from you. I highly recommend checking it out and supporting your local farmers! Have a great week! XoXo
Ingredients
2 tbsp unsalted butter
½ onion
3 stalks of celery
¼ cup flour
2 large russet potatoes, peeled
1½ cups chopped broccoli
3 cups chicken broth
1 cup shredded cheddar cheese
2 cups milk
½ teaspoon pepper
¼ tsp paprika
Instructions
Melt butter in a large stock pot.
Chop onion and celery by hand or in a food processor.
Add to the melted butter over medium heat. Stir occasionally for 7 minutes.
Peel and chop potatoes into small cubes (bite-sized).
Wash and chop broccoli in food processor or by hand in very small pieces.
Stir flour into onion and celery, then add 3 cups of chicken broth and bring to a boil.
Add potatoes, broccoli and seasonings and cover. Boil for 25 minutes or until potatoes are at desired tenderness.
Turn off heat and stir in milk and cheddar cheese.
Taste and add desired seasonings (you can try a wide variety, but if you are unsure what to add start with parsley!).
Makes 4 large servings
This post is sponsored by: