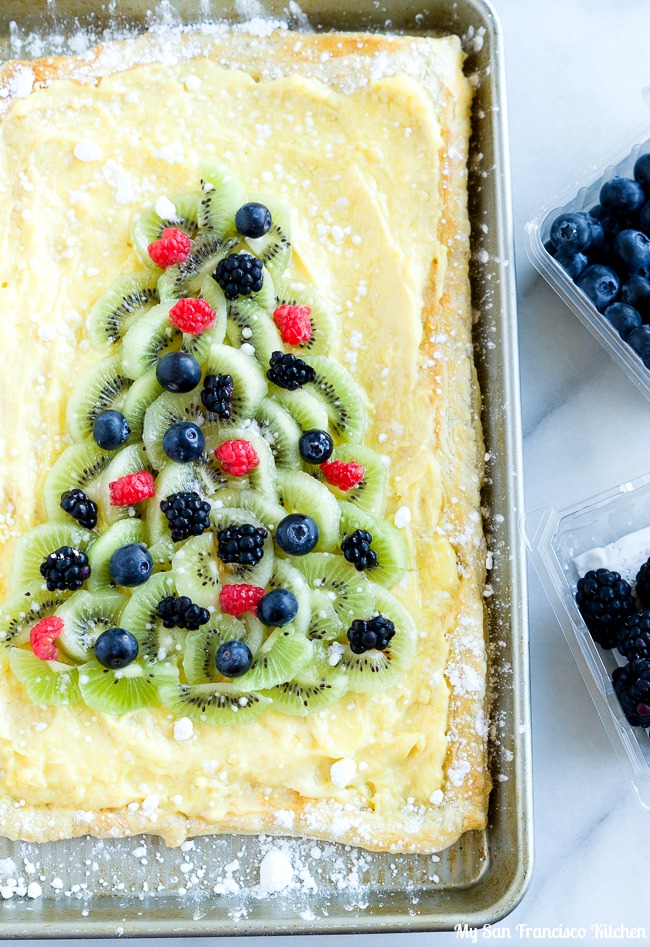 The holidays are just around the corner, which means for many of us, baking will be in full force. This holiday fruit tart is really quick and easy to make, and perfect for serving as a dessert during your holiday parties this year. I especially love this fruit tart because when you slice it up, no utensils are needed. This works great when your guests are standing/walking around and want a light dessert to munch on in their hand. 
I created this holiday-themed fruit tart using Pepperidge Farm® Puff Pastry Sheets, topped with a custard filling and fresh kiwi and berries to form the Christmas tree. This fruit tart is best eaten freshly made on the same day, but that is no problem since it takes minutes to prepare.
First, bake the Puff Pastry Sheet in the oven until light, fluffy and crisp. Then, cook the custard filling in a pot and let cool while chopping the fruit for the Christmas tree topping. Don't forget a sprinkle of powdered sugar for a little extra sweetness and a professional look. I also think the powdered sugar sprinkled over the top of the fruit tart looks like snow!
Can you think of any other holiday shapes you can make from fruit on top of the Puff Pastry tart?
For more ideas, visit Pepperidge Farm® website!
See my YouTube tutorial below.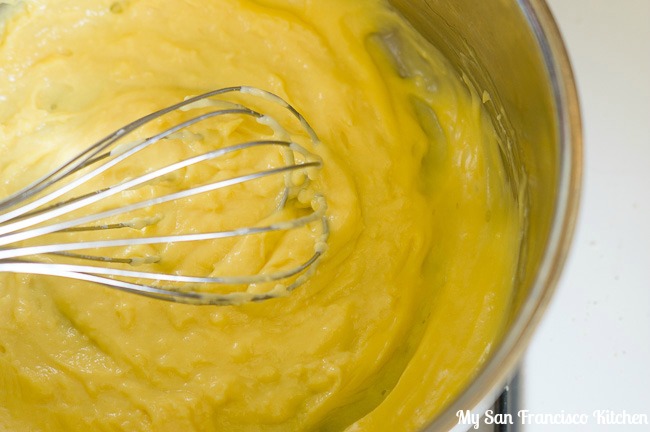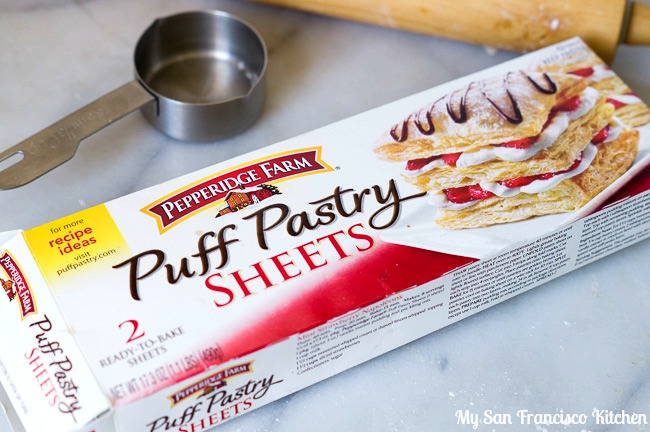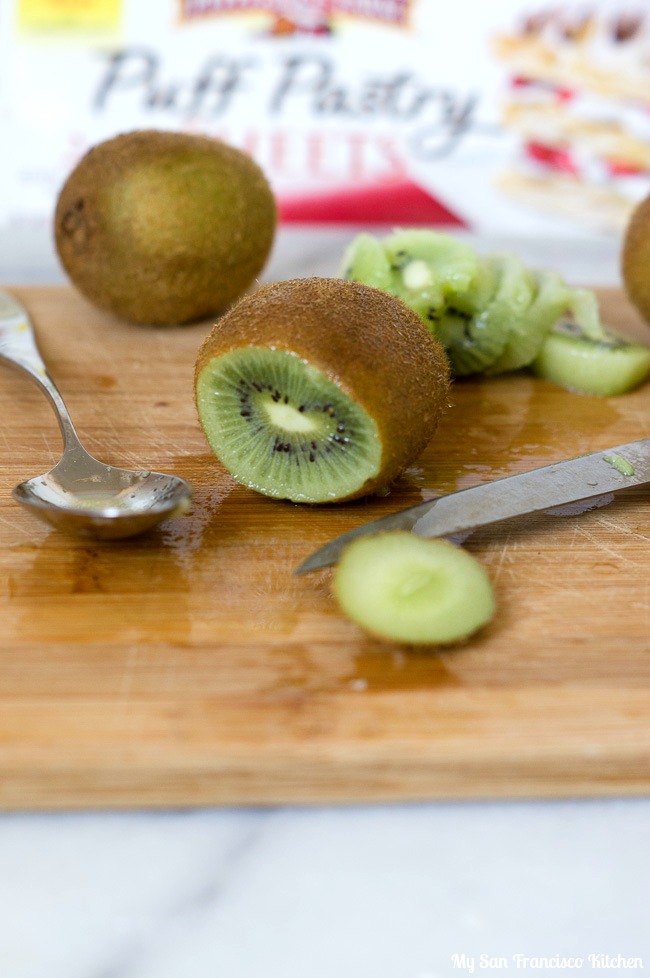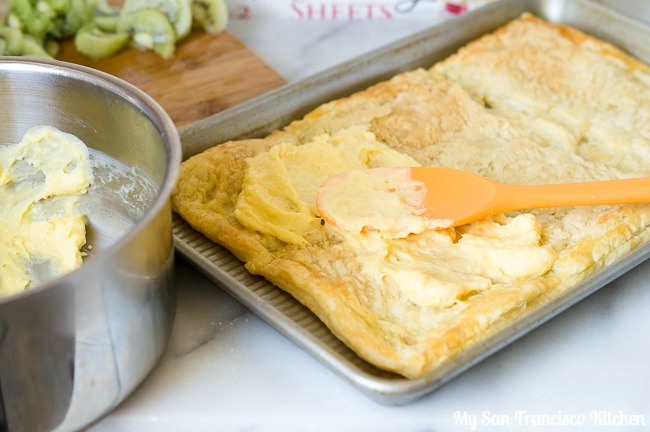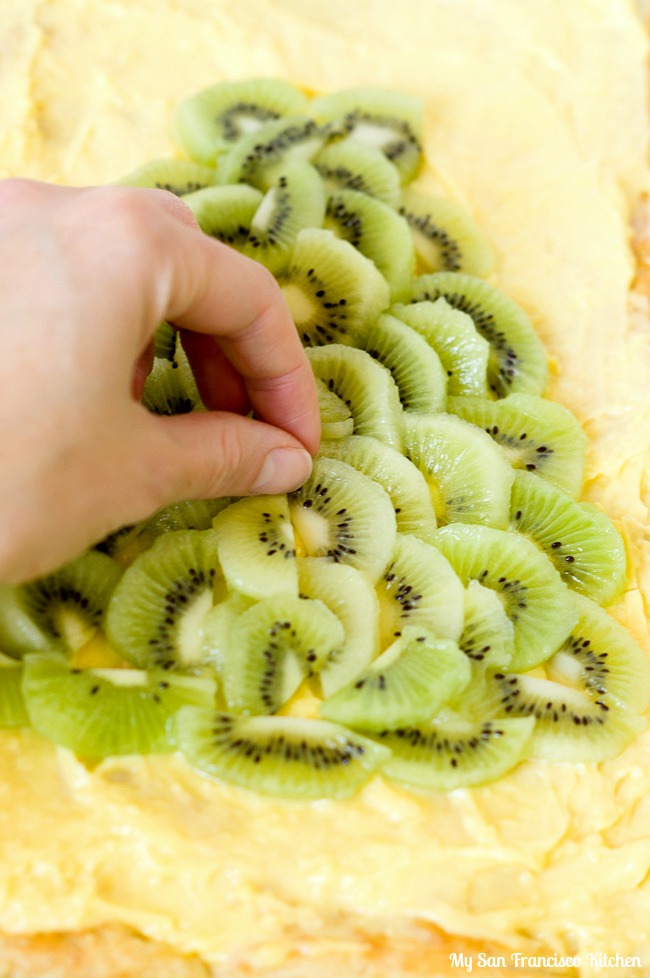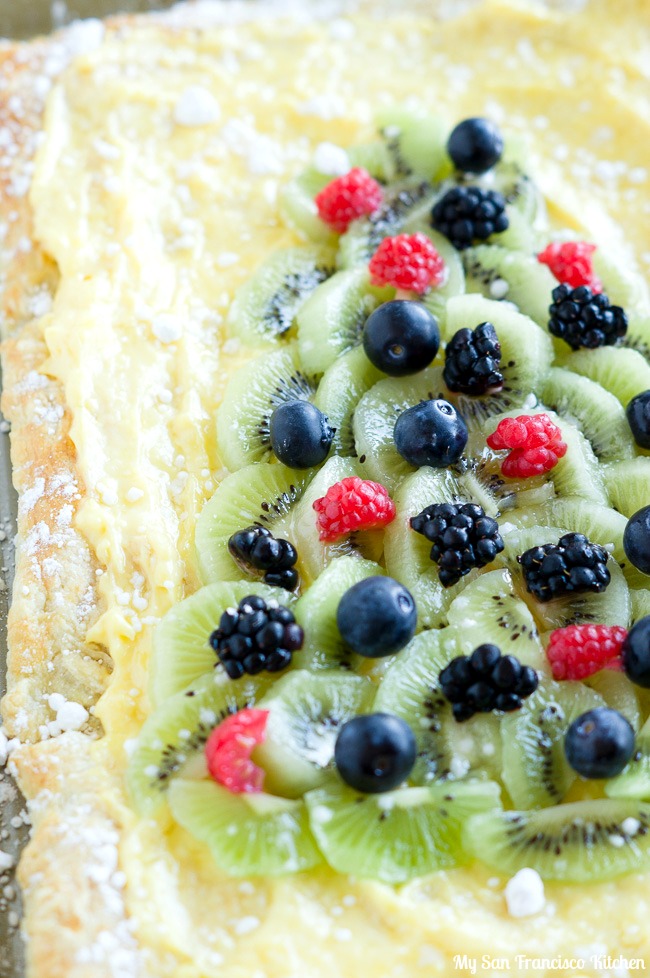 Holiday Fruit Tart with Puff Pastry
Ingredients
1 Pepperidge Farm® Puff Pastry Sheet, thawed to room temperature
1¼ cups milk
⅓ cup sugar
1½ tbsp flour
2 tbsp corn starch
½ tsp vanilla extract
4 kiwi
1 tbsp raspberries
1 tbsp blueberries
1 tbsp blackberries
Powdered sugar for topping
Instructions
Preheat the oven to 400 degrees F.
Grease a 13x9-inch tart pan with butter, then roll out the puff pastry sheet and press into the pan.
Use a fork to poke holes in the pastry sheet.
Bake in the oven for 15 minutes, then decrease the heat to 350 degrees F and bake an additional 5 minutes.
Remove from the oven and cool.
Heat the milk in a saucepan.
Combine the sugar and egg yolks in a bowl, then add the flour and corn starch and mix well.
Once the milk starts to boil, immediately add ⅓ of it to the egg yolk mixture and stir, then use a spatula to add the egg yolk mixture to the saucepan and whisk continuously over low heat until thick (takes about 5 minutes). Do not stop whisking until thick, then remove from heat and cool.
Once cool, spread over the baked puff pastry and top with sliced kiwi in the shape of a Christmas tree and berries.
Sprinkle powdered sugar on the top.
Makes 1 9x13-inch tart