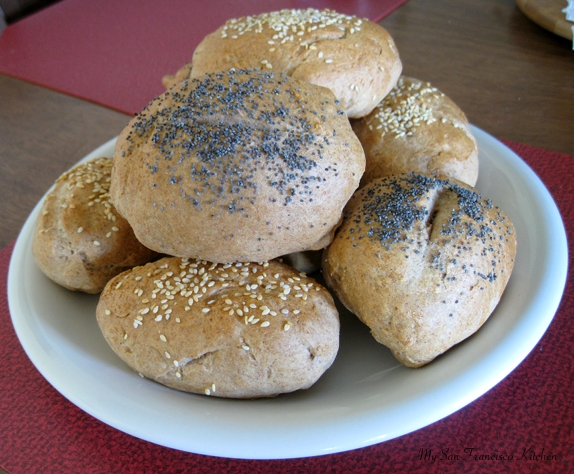 One thing I really miss from living in Germany is the bread…ohhh the bakeries! It is traditional in Germany to have brötchen, or bread rolls, for breakfast with butter, preserves, Nutella, cheese, meat, or peanut butter. Breakfast in Germany was my favorite meal of the day because of the variety of breads and topping they offer. I have attempted to make these fresh breakfast rolls myself multiple times, and every recipe I have found so far has not been close to authentic German bread rolls in the slightest way. After a lot of trial and error and reading many different German brötchen wannabe recipes, I finally made some I am completely happy with! For breakfast this morning I actually felt like I was back in Germany eating fresh rolls from the nearest bakery. I made these whole wheat bread rolls today with my new KitchenAid mixer, which made life so much easier than it used to be making bread! The crust is firm, but the inside is spongy. The special secret is the ice in the oven (see recipe). You can top these rolls with just about anything you think would taste good, but my favorite is poppy seeds!

Ingredients
2 tbsp active dry Rapid Rise yeast
1 tbsp white sugar
1 tbsp honey
2½ cups warm water
2 tbsp shortening
2 tsp salt
4 cups whole wheat flour
3 cups all-purpose flour
3 egg whites, beaten
1 egg white (for egg wash)
2 tbsp cold milk (for egg wash)
Olive oil for coating dough
Ice cubes
Instructions
In a large standalone mixing bowl, dissolve yeast, honey and sugar in warm water. Let stand 10 minutes (should look creamy).
Add in shortening, salt and 3 cups of the flour.
Mix with dough attachment or fork for 2 minutes.
Add egg whites.
Add flour ¼ cup at a time, and mix until dough pulls away from bowl.
Keep on setting 2 of standalone mixer with breadhook attachment for 5-10 minutes, or turn onto a floured surface and knead by hand, adding more flour as necessary. Dough should be elastic when finished.
Lightly oil a large bowl, and place the dough coated with olive oil in the bowl.
Cover with a damp towel and let rise in a warm place until doubled in volume, about 1 hour. Punch down dough, and let rise again until doubled, about 45 minutes.
Turn dough out onto a lightly floured surface and divide into 16 equal pieces.
Form oval-shaped rolls about 3 inches long, or desired length.
Place on baking sheets, cover and let rise until doubled in volume, about 40 minutes.
Preheat oven to 425 ºF and place an empty baking pan on the bottom rack of the oven.
In a small bowl, beat egg white with the 2 tbsp of milk to make the egg wash.
Lightly brush rolls with the egg wash and sprinkle with poppy seeds or desired topping.
Place ~1 cup of ice cubes onto the hot baking sheet in the oven and immediately place the rolls in the oven.
Bake at 425 ºF for about 20 minutes or until golden brown.
Place on wire rack to cool.
Makes 16 rolls
This post is sponsored by: