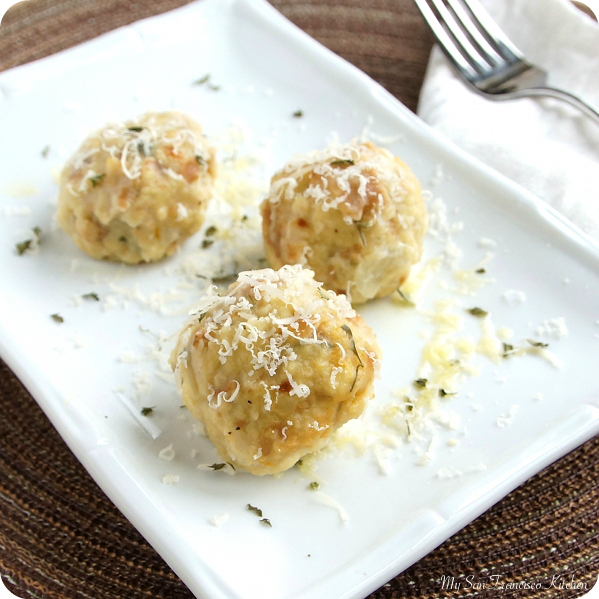 I brought you back a special treat from Italy: Italian canederli (also known as Knödel in Germany). I am so excited to share this recipe with you, because this dumpling recipe is my new favorite! I can't get enough of them. I first tried these delicious dumplings at a restaurant in South Tyrol, and later found out they are a specialty from northern Italy. You can usually only find them in restaurants in this area! They are sooo delicious, you must try them. You can serve them in soups (even just a vegetable broth!), but they are typically served with a little olive oil and sprinkled with Parmesan cheese and parsley or chives. These dumplings make a wonderful main course or side dish, and are a great way to use up a baguette that is going stale. I use a french baguette, but any white bread should do! Note: This recipe only serves 2, so double to serve 4!

Italian Canederli
Ingredients
100g (about 2 cups) chopped day old white bread (French baguette works great!)
⅓ cup milk
1 egg
⅛ tsp salt
⅛ tsp nutmeg
⅛ tsp pepper
2½ tbsp all-purpose flour, plus extra for rolling
1 tbsp parsley
⅓ cup (60g) shredded Gouda cheese
⅓ onion, finely chopped
4 cups vegetable broth
2 cups water
Olive oil
Parmesan cheese for garnish
Instructions
Chop up a French baguette (or other white bread) until you have 2 cups, then place on a plate and cover with a dish towel overnight (if already stale, do not need to wait overnight).
Beat egg, milk, salt, nutmeg and pepper in a large bowl.
Add chopped-up bread and stir very well.
Cover with dish towel and refrigerate for 2 hours.
Stir in flour, cheese and parsley, then cover and refrigerate for another 30 minutes.
In the meantime, add olive oil to a skillet and heat over medium heat. Simmer the onions for about 8 minutes, until all are translucent.
Add the onions to the bread mixture and stir well.
With your hands, form balls out of the bread mixture to desired size (I like to serve them large) and roll in flour. Set on a plate or parchment paper.
When all are done, roll a second time in flour.
Bring the vegetable broth and water to a boil, then add the dumplings and boil them for 15 minutes.
Use a straining spoon to remove them and shake off the excess water. Set on a plate to cool briefly.
Serve with olive oil, Parmesan cheese, and parsley sprinkled over the top.
Makes 7 large dumplings
This post is sponsored by: