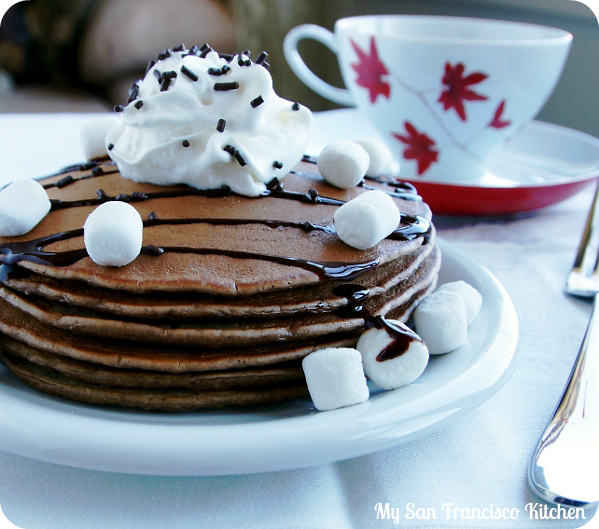 I have a fun recipe for you today because it is only Tuesday and the weekend is still so far away *sigh*. These hot cocoa pancakes are surprisingly not as sickeningly sweet as they may sound. OK, yes, I have a huge sweet tooth, and I love sweet things for breakfast, but really…they aren't that sweet. These warm chocolate pancakes topped with whipped cream, marshmallows and chocolate syrup can actually be quite comforting on cold winter mornings. I usually never have time in the mornings during the week to make myself a big breakfast (the breakfast at the hospital cafeteria is actually quite good!), but on the weekends I love to experiment with different recipes. These were a rare treat because I usually eat very healthy for breakfast – fruit, oatmeal, granola, yogurt… Would I eat these hot cocoa pancakes with a cup of hot cocoa? Probably not – I'm not that addicted to sweets! But coffee? Yes, most definitely.
I used my Comforting Hot Cocoa from scratch recipe for the cup of hot cocoa used in this recipe.
So tell me, what is your typical breakfast like? Do you like sweets for breakfast, or do you stick to healthier foods? Do you splurge on the weekends?
Hot Cocoa Pancakes
Prep time:
Cook time:
Total time:
Ingredients
1 cup hot cocoa (see recipe link above)
2 tbsp butter
1 1/3 cups all-purpose flour
2 tsp baking powder
½ tsp salt
1 tbsp granulated sugar
½ tsp vanilla
1 egg
2-3 tbsp chocolate syrup
1/2 cup mini marshmallows for topping
Whipped cream for topping
Instructions
Prepare 1 cup of hot cocoa in a small saucepan over low heat.
Add butter and stir until melted. [img src="http://mysanfranciscokitchen.com/wp-content/uploads/2013/02/hot-cocoa-pancakes-setup.jpg"]
Remove from heat and add the vanilla and chocolate syrup. Mix well.
Set aside to cool. Once cooled, add the egg and beat with a whisk.
In a mixing bowl or large Pyrex measuring cup, add flour (sifted is best for decreasing clumps), salt, baking powder and sugar. Whisk together until well combined.
Add the liquid mixture to the dry ingredients and whisk well. [img src="http://mysanfranciscokitchen.com/wp-content/uploads/2013/02/hot-cocoa-pancakes-3.jpg"]
Heat a medium skillet over medium heat and spray with cooking spray.
Pour 1/4 cup batter onto the skillet and flip when bubbles pop and stay open.
Repeat until all of the batter is used up.
Stack pancakes onto a place and top with chocolate syrup and whipped cream. [img src="http://mysanfranciscokitchen.com/wp-content/uploads/2013/02/hot-cocoa-pancakes-top-edit.jpg"]
Makes 6 pancakes
This post is sponsored by: