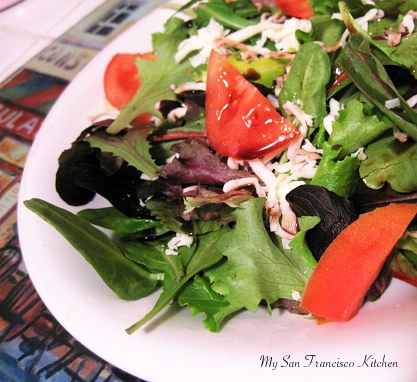 This Italian balsamic salad recipe is so fast and easy, especially for those busy mornings when you are trying to pack for work or school. I used to work in a shopping center that had tons of restaurants within walking distance: Subway sandwiches, pizza places, sushi, Chinese, Mexican, McDonalds, Carls Jr., The Habit (similar to Inn & Out), Jack in the Box, you name it. I would always just buy my lunch at one of these places because I figured I was getting paid for being there all day and it was a treat to myself. I remember looking at how much money I was spending eating out for lunch and being shocked. You really don't notice that $6 for lunch every day adds up to quite a bit that you can save every month (or year for that matter) by bringing your own lunch to work. Another plus is not having to worry about where you are going to go and how long the line is, because you usually only have 30 minutes and you don't want to spend most of it on this type of thing. I got bored really fast with bringing sandwiches everyday, so I started experimenting with salads. This one is still one of my top favorites because its not fattening, it tastes so fresh and I love mozzarella cheese! I use Organic Baby Greens salad from Safeway, but it is just made of romaine, red and green oak leaf, baby spinach, and arugula lettuce.

Ingredients
2 cups Organic Baby Greens salad (romaine, baby spinach, arugula, oak leaf lettuce)
½ cup shredded low fat mozzarella cheese
1 Roma tomato, diced
¼ cup balsamic vinegar dressing
Instructions
Toss salad and tomatoes together, then top with mozzarella cheese.
Drizzle balsamic vinegar dressing over the top.
This post is sponsored by: