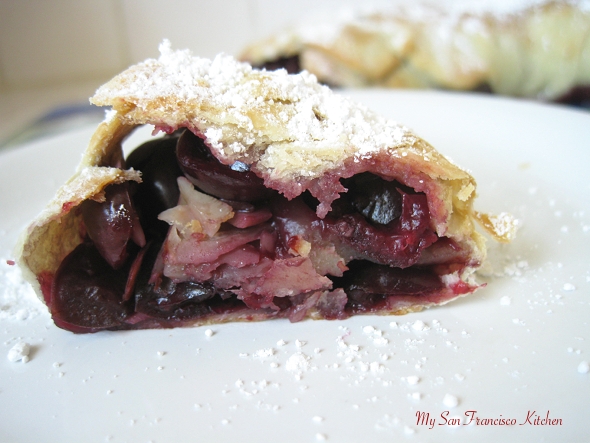 As promised, here is the fresh cherry strudel recipe from this weekend. I made it for my family who came to visit me in San Francisco to celebrate my brother's birthday. Maybe its just me being picky, but I had a really hard time finding a cherry strudel recipe anywhere online to try. There are many apple strudel recipes, but no good cherry ones! I asked my fiancé's mom in Germany if she had one, and luckily she did 🙂 This recipe is from a German cookbook and originally calls for "Kirschwasser" or cherry brandy, but I chose to leave this out. You can find a small bottle at Bevmo, but they are around $7. You could also try finding Kirschwasser at amazon or ebay. This cherry strudel is not too sweet, so it can be served with tea in the afternoon, or even at breakfast. The only problem I had was some of the cherries leaked out (see photo below). I am not sure if rolling it tighter would help, or if I just overfilled it…if anyone comes up with a good solution let me know! Also, get a cherry pitter…I pitted every cherry by hand because I still haven't got around to finding one and it took forever!

Kirschstrudel (Fresh Cherry Strudel) Recipe
Ingredients
Dough
1 cup all-purpose flour
3 tbsp vegetable oil
½ tsp salt
5 tbsp cold water
2 tbsp butter
Powdered sugar for garnish
Filling
2 cups fresh cherries, pitted
½ cup sliced almonds
2 tbsp sugar
½ tsp vanilla extract
Instructions
Add flour, oil, and salt to a standalone mixer and mix on low with a paddle attachment.
Add water 1 tbsp at a time until a dough forms. Add more water as needed. Dough should clean sides of the bowl .
Switch to a hook attachment and knead for 5 minutes (you can also knead the dough by hand for 10 minutes). Remove and knead by hand 2 minutes on a floured surface. Throw dough hard on surface a few times in between.
Gather dough into a ball and wrap with plastic wrap. Let stand 30 minutes at room temperature in a cool place.
While dough is resting, pit cherries and slice them in half and add to a large bowl. Mix in sugar and vanilla and let stand until dough is ready.
Preheat oven to 425 degrees F (220 C).
Roll dough on a large floured table cloth as thin as possible (at least 12x16 inches).
Turn the dough so the longest side is horizontal to you. Add cherry filling to lower ⅓ of the dough, and sprinkle sliced almonds on top.
Using the table cloth to turn dough over, roll the dough as tight as possible around the filling, and continue rolling all the way.
Transfer carefully to an ungreased baking sheet and form into a crescent shape.
Brush the top with melted butter and bake for 25-30 minutes.
Remove from oven and sprinkle powdered sugar over the top. Let cool for 10 minutes, and sprinkle more powdered sugar over the top before cutting and serving. I found it easiest to cut with a pizza cutter.
Serve warm with tea.
See this recipe on Weekend Potluck!
This post is sponsored by: