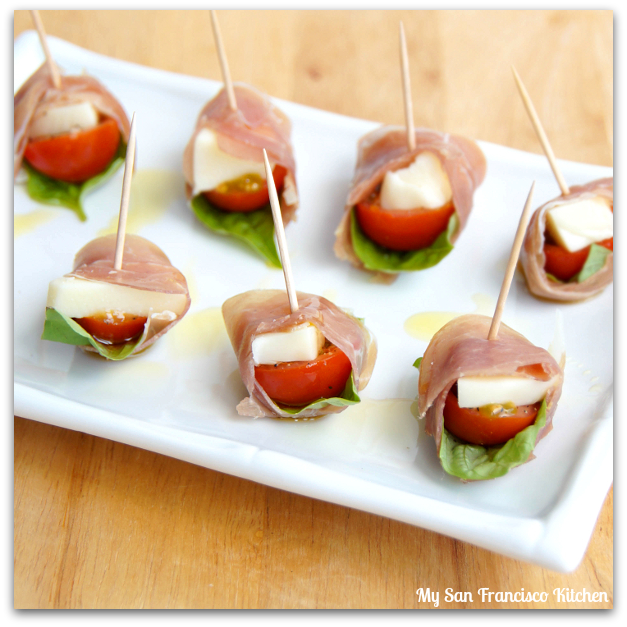 I could never get tired of eating Insalata Caprese! It tastes so fresh and I just love the different flavors from the basil, tomatoes and mozzarella cheese. The other day I wanted to make it for dinner, but I always feel bad feeding my husband just salad for dinner. I remembered I had some prosciutto that I needed to use up in my refrigerator, and thought it would be fun to wrap the tomato, basil and mozzarella cheese in prosciutto slices. I drizzled them with olive oil and they were so good! I think they are a great appetizer (which is what they turned out to be since we were both still hungry after eating this batch). Prosciutto is cured, so you can eat it as-is, but I think it tastes really good crisped a little in the oven. This might be tricky because of the mozzarella cheese though, so I didn't want to try it this time.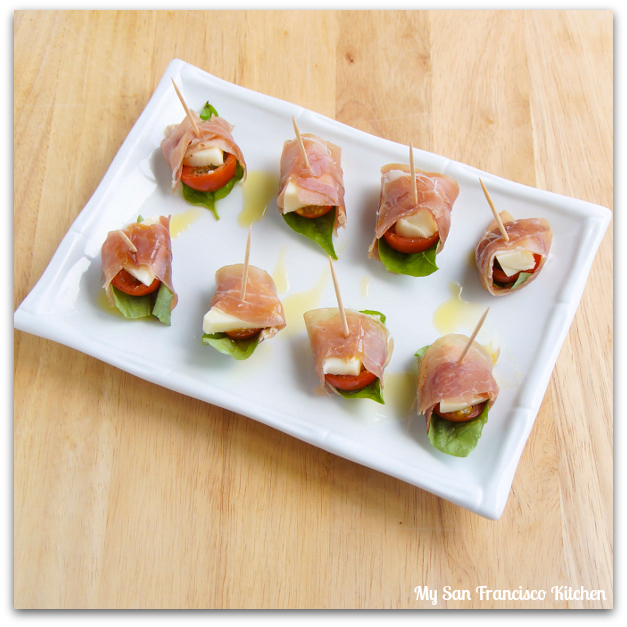 Prosciutto-Wrapped Caprese
Ingredients
8 slices of prosciutto
8 1-inch cubes fresh mozzarella cheese
8 organic fresh basil leaves
4 organic cherry tomatoes, halved
Salt and pepper to taste
Olive oil
Instructions
Stack ½ of a cherry tomato onto a 1-inch mozzarella cube and place on top of a basil leaf.
Season with salt and pepper.
Wrap with 1 slice of prosciutto, fat-trimmed if desired.
Insert a toothpick into the top to hold together.
Repeat until you have 8 rolls.
Drizzle with olive oil just before serving.
Makes 8 rolls
Happy Belated Father's Day to all of you wonderful dads out there, I hope you had a fun weekend!
This past weekend we went camping north of San Francisco and hiked around Salt Point State Park. The scenery was breathtaking! Here are a few of my favorite shots…