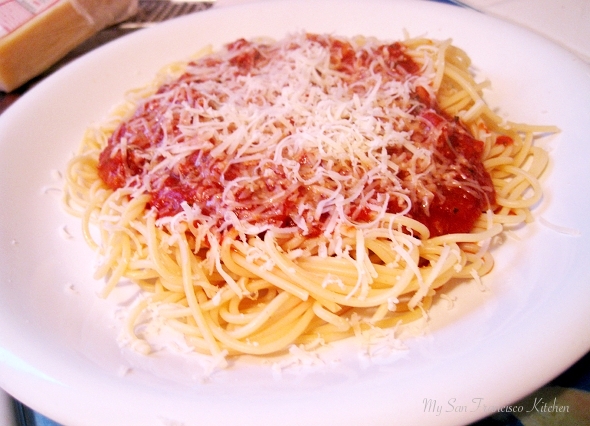 I finally got around to posting the spaghetti recipe from the other night that I made with yummy garlic bread. My mom gave me this recipe when I went off to college and it is one of the first things I made when I started cooking for myself. I still love this classic spaghetti recipe, especially because you can season it just the way you like with basil and oregano…yum! Crockpot recipes are the best because you can start them and leave them all day while you work, etc. This week flashed by me and so many things happened! I got an internship after searching for over a year (yay!) and school has been getting overwhelming because I can't keep up with the pace this quarter. I just keep telling myself: it will all be ok! Tomorrow my family is coming to visit from LA, I am soo excited to see them 🙂 I am planning on making a German cherry streusel, so stay tuned.

Mom's Crockpot Spaghetti Recipe
Ingredients
½ pound of ground beef
½ medium jar of traditional spaghetti sauce
1 can of tomato paste (6 oz)
½ cup of chicken broth
1 tsp basil
1 tsp oregano
1 garlic clove, minced
½ pound spaghetti noodles
1 tbsp olive oil
Parmesan cheese for garnish
Instructions
Brown meat on a heated skillet.
Add onions and garlic and simmer for 7 minutes.
Drain excess fat, then transfer to crock pot with remaining ingredients.
Cook for 4 to 5 hours on low.
Bring a large pot of water to boil.
Add ½ pound of spaghetti noodles and 1 tbsp olive oil and cook for time given on box (~9 minutes).
Drain noodles.
Serve with fresh Parmesan cheese.
This post is sponsored by: