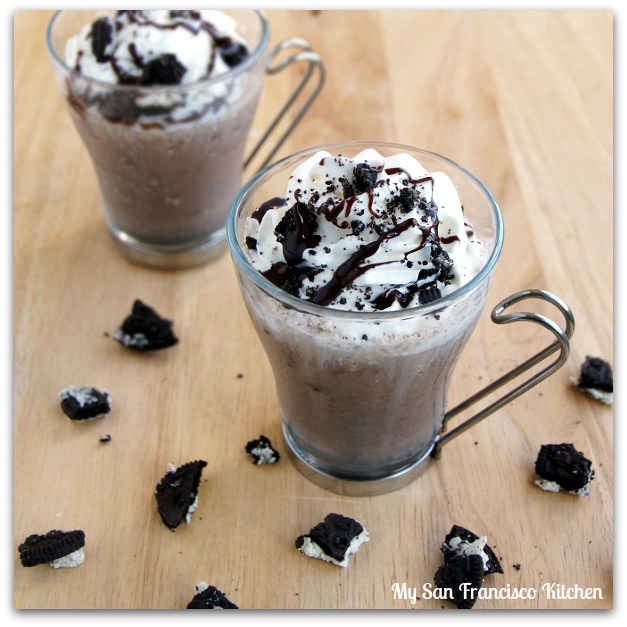 On Fridays I usually treat myself to a Frappucino® after a long week. Fraps are one of those treats I always feel so guilty about, and try to limit how often I drink them. Why not try the "light" version you ask? Well, I can't stand artificial sweeteners, it just ruins the whole drink for me. Today I decided to make my own homemade light cookie frap. Yes, I might have overdone it with the whipped cream and chocolate syrup, so it wasn't really "light" after I was done with it…but the recipe itself (without the whipped cream and chocolate syrup) has much less sugar than traditional fraps, and taste way better than the light kind you buy at coffee shops. One 8-oz frap only has 40 calories, and 11g of sugar! That means you can even throw in another chocolate sandwich cookie in there 😉 Enjoy this almost guilt-free blended beverage and your Friday! Cheers!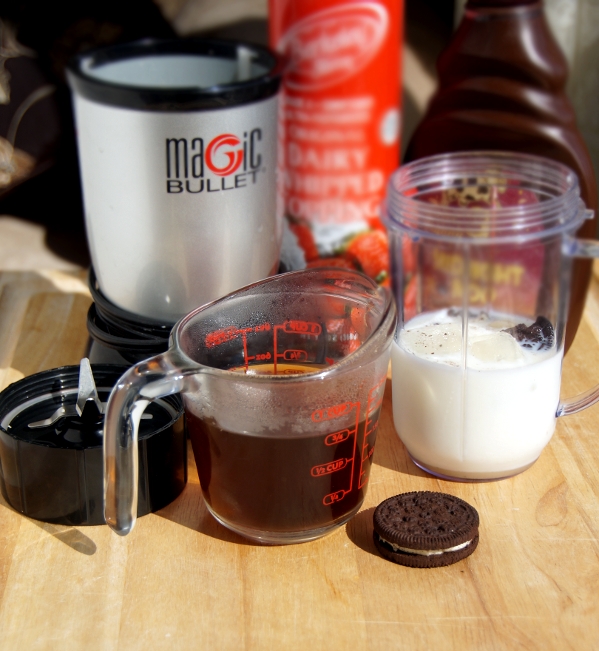 Light Cookie Frap
Ingredients
1 cup ice
¼ cup non-fat milk
¾ cup strong coffee
1 chocolate sandwich cookie (plus more for topping!)
1 tbsp granulated sugar
Whipped cream and chocolate syrup for topping (optional)
Instructions
Add all ingredients to a blender and blend.
Top with whipped cream, chocolate syrup and crushed chocolate sandwich cookie pieces (optional).
Makes 2 8-oz fraps
Nutrition Information
Serving size:
1 8oz Frap (without whipped cream)
Calories:
40
Fat:
1.6
Saturated fat:
0.5
Sugar:
11g
Sodium:
36mg