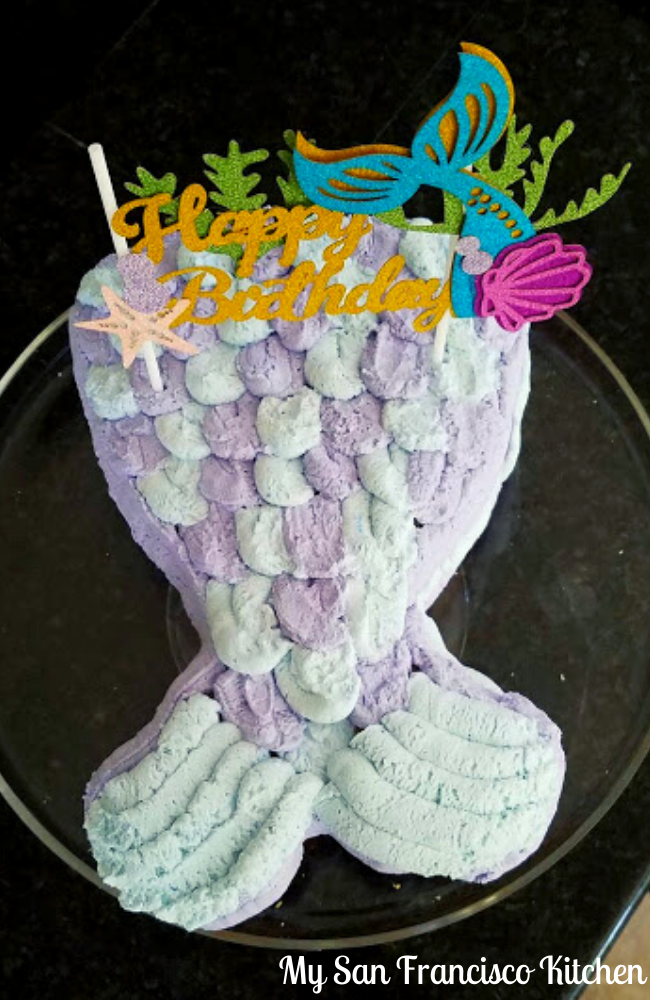 I have been wanting to post this mermaid cake tutorial since my daughter's 5th birthday in May, and I am finally doing it – yay! For my daughter's 5th birthday, I asked her what kind of cake she wanted. Immediately she told me she wanted a mermaid tail cake. I first showed her pictures of mermaid tail cake toppings you could buy online and she said "no Mom, I want the cake to be a mermaid tail." Then I knew I was in for an adventure! I have never done anything like a mermaid tail cake before. I tried searching the internet, and luckily I found a silicone mermaid cake mold and ordered it. It even came with a cake recipe to fit, which was nice!
Once I had the cake mold, I started thinking about food coloring. I am not a huge fan of red #1, blue #2 and yellow #3, so I researched some natural food dyes and bought some as well. It was very easy to tint the whipped cream frosting in my Thermomix®. I made the cake and topping in it.
Once the cake cools, remove it from the mold and let it completely cool on a cooling rack. Then, cut it in half with a large bread knife (try to be as even as possible). Prepare the whipped cream filling and frosting and decorate. *Note: you must add the powdered sugar to "stabilize" the whipped cream topping – this makes it last much longer, you can even make it the day before and it will hold in the fridge.
This cake looks hard to do, but it is very easy to put together and decorate! Let me know if you have any questions in the comments below 🙂
Mermaid Tail Cake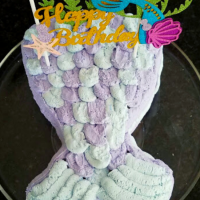 1 1/2 cups all-purpose flour
2 tsp baking powder
1/4 tsp salt
1/2 cup whole milk
2 eggs
1/2 cup butter, room temperature
1 cup sugar
2 tsp vanilla extract
Frosting
2 cups heavy whipping cream
6 tbsp powdered sugar
food coloring
Preheat oven to 350 degrees F.

Grease the cake mold with butter.

Mix the butter and sugar in a Thermomix® mixing bowl or stand mixer, then add the eggs and vanilla and mix.

In a separate bowl, whisk the flour, baking powder and salt together.

Alternate adding the dry ingredients and the milk while mixing on low speed until everything well combined.

Transfer to the cake mold and bake for 35-40 minutes, until toothpick comes out dry.

Cool completely before removing from the mold.
Frosting
Add half of the whipping cream and 3 tbsp powdered sugar and one of the colors to a Thermomix® mixing bowl and mix with the butterfly whisk until stiff peaks form (or use a whisk attachment in stand mixer). Repeat for the other color.

Use a cake decorating bag to fill the middle and add fruit if desired, and decorate the top y alternating colors to form scales on the mermaid tail.
Disclaimer: I am a Thermomix® consultant and sell them as an independent business. "THERMOMIX," "VORWERK," "COOKKEY," and "COOKIDOO" are a registered trademark of VORWERK (or its affiliates). VORWERK does not support, authorize or endorse this site.
Some links above may be affiliate links, and I will receive some commission if you choose to purchase the products.