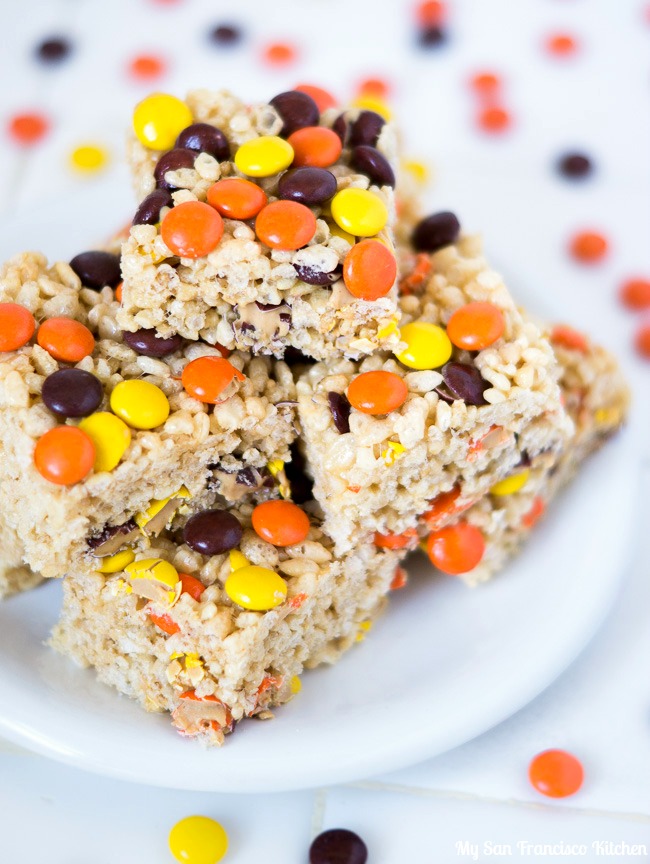 This is one of those times I let my cravings get the best of me.
I had half a bag of marshmallows left over from when I made those Nutella rice krispies treats the other day and a box of rice cereal sitting on top of my refrigerator that were begging me to make these Reese's Pieces rice krispies treats all of last week. I was trying to resist, but finally gave in. Aren't they so pretty with all of the Fall colors going on? They remind me so much of the Fall season, and I think this is a fun, easy recipe for Halloween coming up. 
These chocolatey peanut buttery Reese's Pieces rice krispies treats are a fun no bake dessert that is easy for the whole family. They don't require a lot of baking knowledge or fancy equipment, and it is really hard to mess them up! All you need to make these rice krispies treats is a big pot, parchment paper, and an 8×8-inch (or 9×13-inch if you double this recipe) baking dish to set them in to cool. What I also love about this Reese's Pieces rice krispies treats recipe is that you only need four ingredients: rice cereal, butter, marshmallows and the Reese's Pieces! Finally, no baking is required! Don't you just love the ease of no bake treats? They only took me about 10 minutes to make.
My favorite part about this Reese's Pieces rice krispies treats recipe (besides the pretty Fall colors) is that once you mix in the Reese's Pieces, the peanut butter filling inside melts while the outer shell holds together. If you let them cool just until they are set and cool to the touch, the inner Reese's Pieces will break open when you take a bite and the peanut butter filling will still be warm and melted! Yum!!
Thank you for indulging my craving of the week. I'll be at the gym working these delicious Fall no bake treats off now! 😉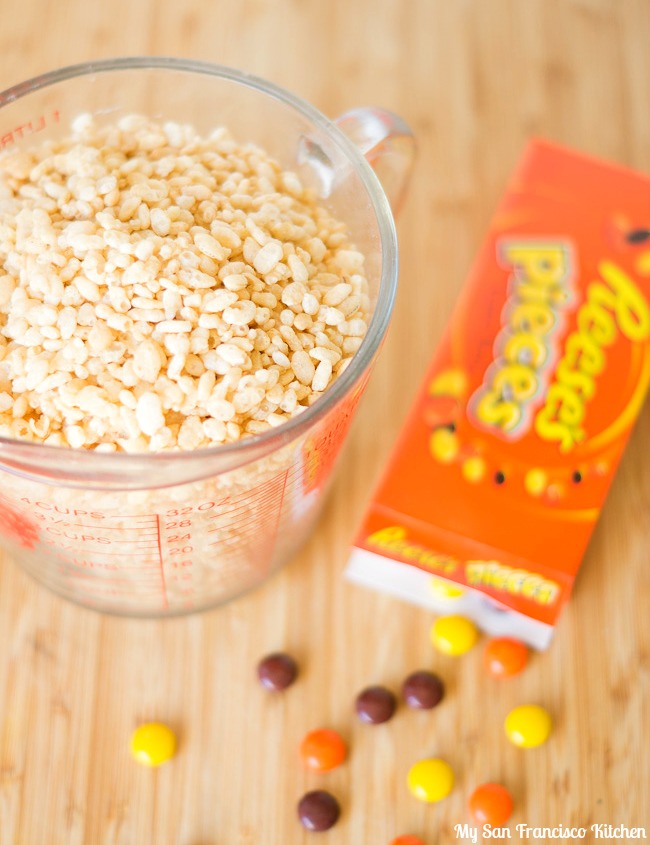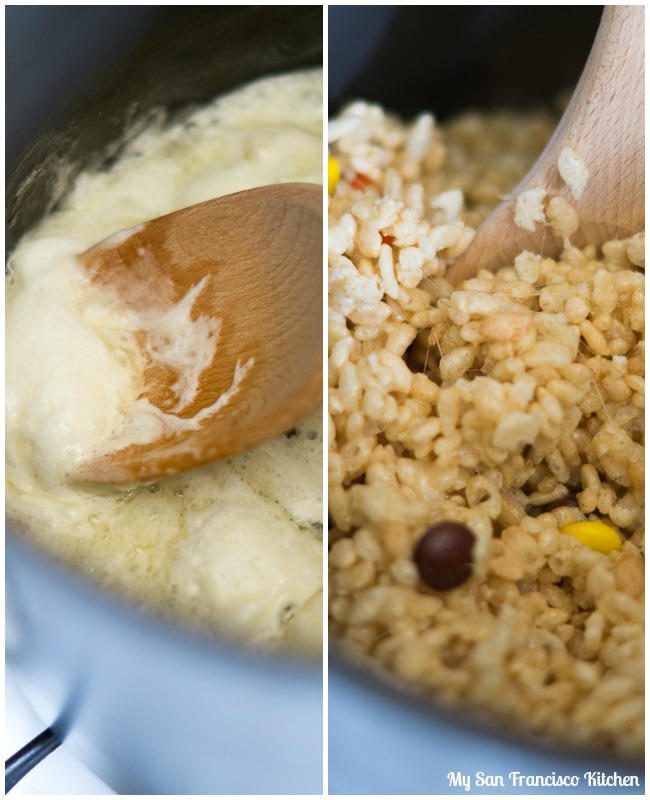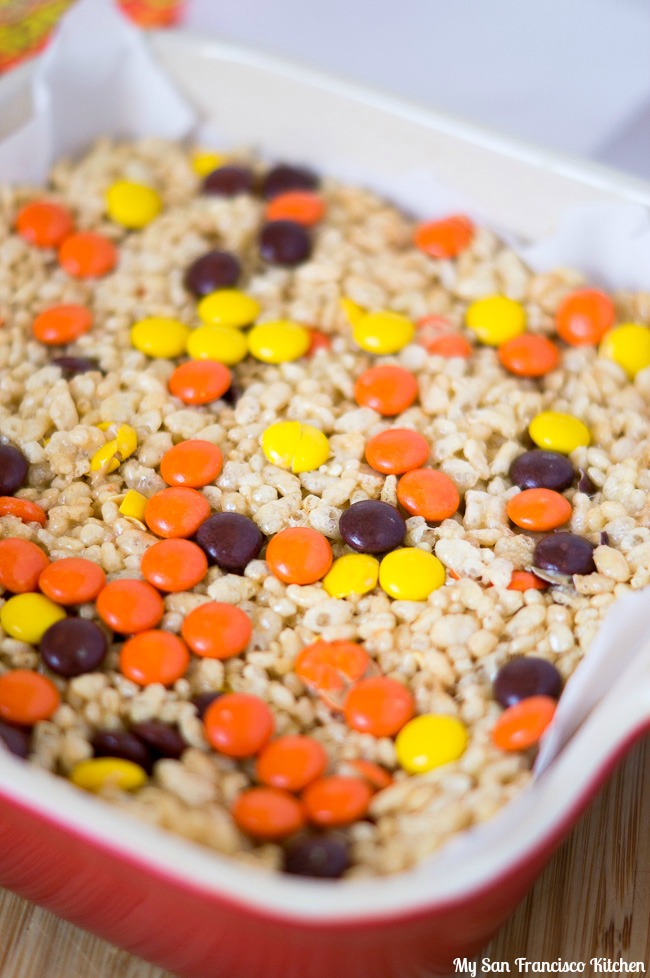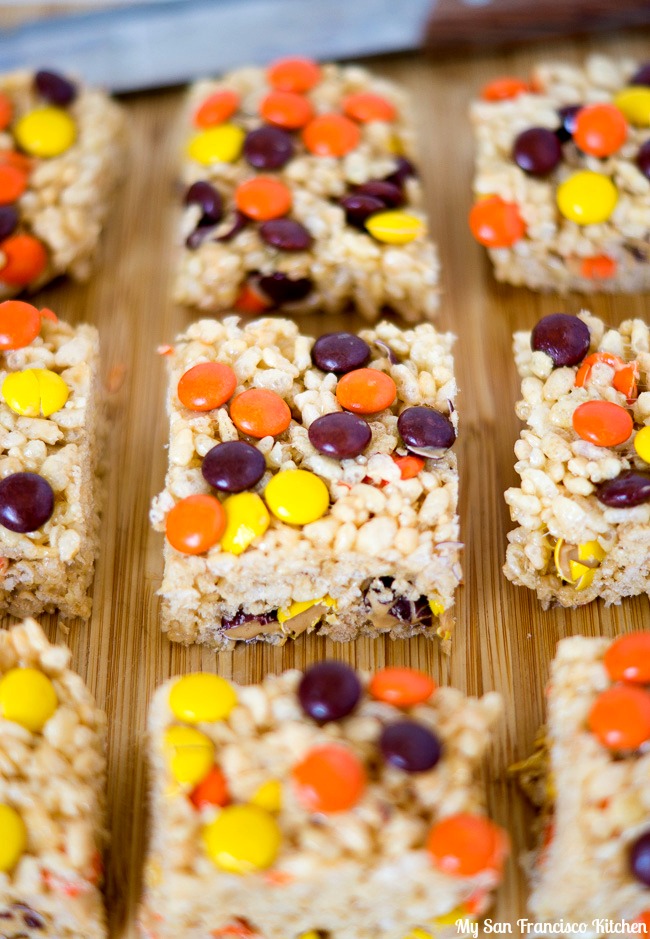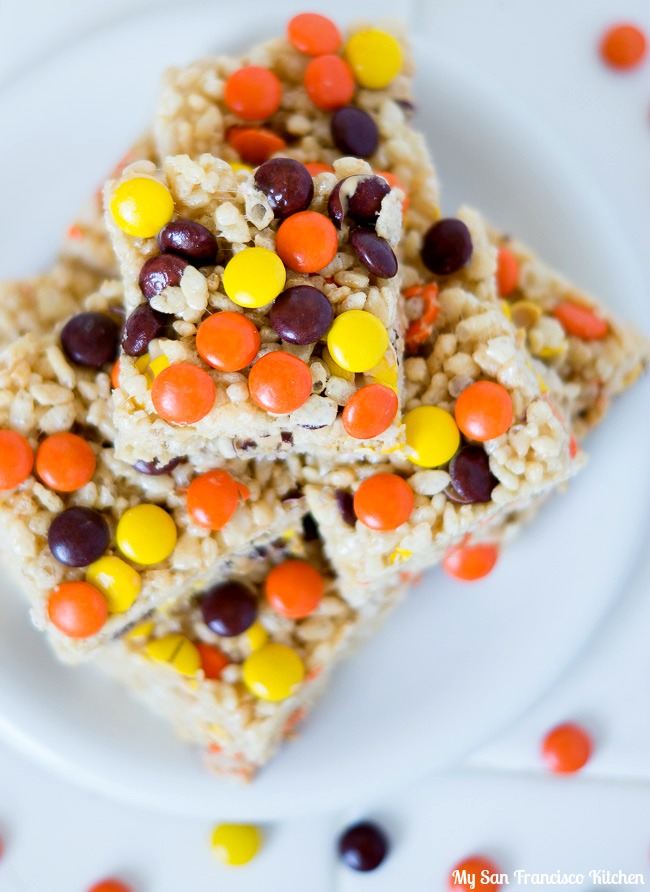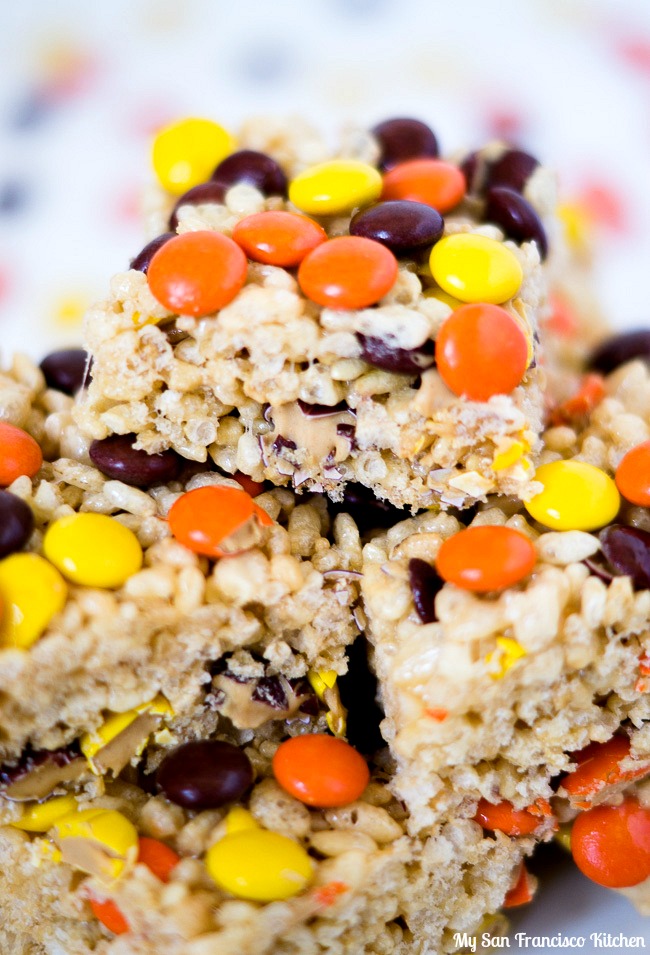 Reese's® Pieces Rice Krispies Treats®
Ingredients
½ 16 oz bag large marshmallows (8 oz)
4½ cups rice cereal
4 tbsp unsalted butter
1 box (4 oz) Reese's Pieces
Instructions
Line an 8x8-inch square baking dish with parchment paper. Cut a piece of parchment paper the size of your hand and set aside (for pressing later).
Melt the butter over low heat and add the marshmallows. Slowly melt them while stirring occasionally.
Once the marshmallows are melted, turn off the heat and add the rice cereal and ⅔ of the Reese's Pieces and stir quickly with a wooden spoon.
Quickly transfer the rice cereal mixture to the lined baking dish and gently flatten with the parchment paper. Top with the remaining Reese's Pieces and gently press them into the top of the treats.
Cool for at least 30 minutes, then remove by lifting the edges of the parchment paper onto a cutting board and cut into 9 squares.
Makes 9 squares
Did you make it? I'd love to see! Snap a pic and share via #mysanfranciscokitchen, or tag my social media sites!