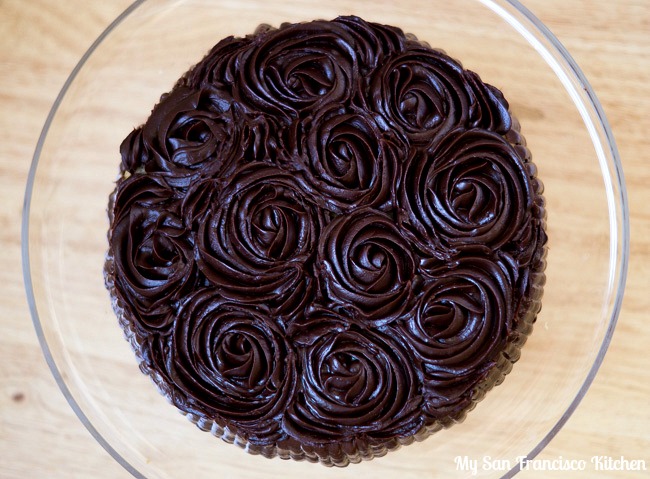 This weekend I am celebrating a special birthday. It is My San Francisco Kitchen's 4 year birthday (or should I say, blogiversary)!
The time has really gone by so fast, and I can't believe I started this food blog four years ago. It has grown a lot since then, and me along with it…but we will get to that later. First, let's talk about this chocolate ganache rose yellow cake <3 <3 <3
Actually, let me first preface this post by just saying, I am not a professional baker (as you can see from my not-so-perfect roses). I'm 100% sure you can do a much better job at decorating this chocolate ganache rose cake than me. Practice makes perfect, right? Too bad I don't make cakes often enough to practice my cake decorating skills! Like I always say, as long as it tastes good the looks don't matter 😉 
If you haven't worked with ganache before, you shouldn't be intimidated. It is actually very easy to make at home from scratch and to work with. It is more popular to use ganache as a pour-over frosting for cakes, but if you let it sit at room temperature for a little you can pipe it like frosting.
I made this fluffy yellow cake from scratch, and used a milk chocolate frosting for the filling between the two cake layers and the "stems" of the rose bouquet on the outside, and chocolate ganache for the roses. I only baked one layer, and cut it in half, so my cake was on the shorter side. I will add the recipe below to make 2 9-inch rounds, so if you want it smaller like this one I made, just cut it in half!
This isn't the first time I have made a rose cake – see my from-scratch fresh strawberry cake decorated with vanilla frosting roses. Instead of decorating the border of the cake with roses, this time I wanted to create a bouquet look and draw stems all around the cake with milk chocolate frosting. You can use ganache for that as well, but I wanted to have different chocolate flavors for the filling and the top rose decoration.
For the roses, you will need a large star cake decorating tip (I used Wilton No.2D
). Start on the outside of the cake and work your way in a circle and make your way to the center of the cake. For each rose, squeeze your cake bag in the center of the rose and swirl twice around. I suggest practicing on a plate a few times to get a feel for how much pressure you should apply and the speed you should circle around the center of the rose.
In my one year blogiversary post, I noted some stats from my blog during the first year. It is always fun seeing the "then and now" to compare numbers. This past year has been the slowest for my blog, because for almost half of the year I was not posting very much. It has been an exciting year for me, starting my career (which included lots of 13 hour shifts!!) and having a baby, which meant less time for my blog. I am still happy to see how much it has grown since I first started it four years ago.
Just for fun, let's compare followers, then and now. THANK YOU so much for supporting my passion for being in the kitchen, I love sharing all of my recipes with you guys!
2011       2015
Facebook      1,225  -> 4,508
Twitter          120    ->   1,037
Pinterest       300   ->   1,827
Instagram     N/A          360
One of the best things about being a food blogger is meeting other foodies who share the same passion for all things food. 🙂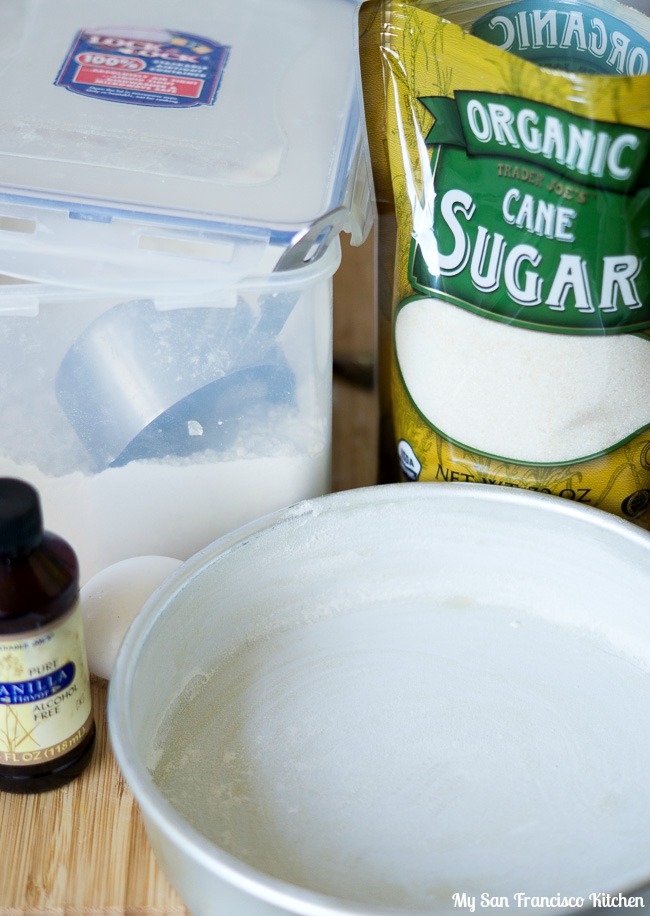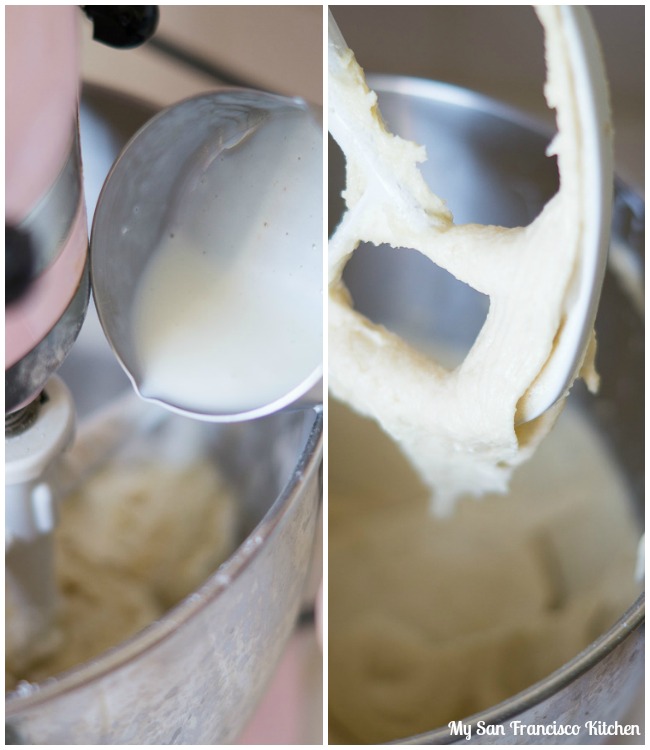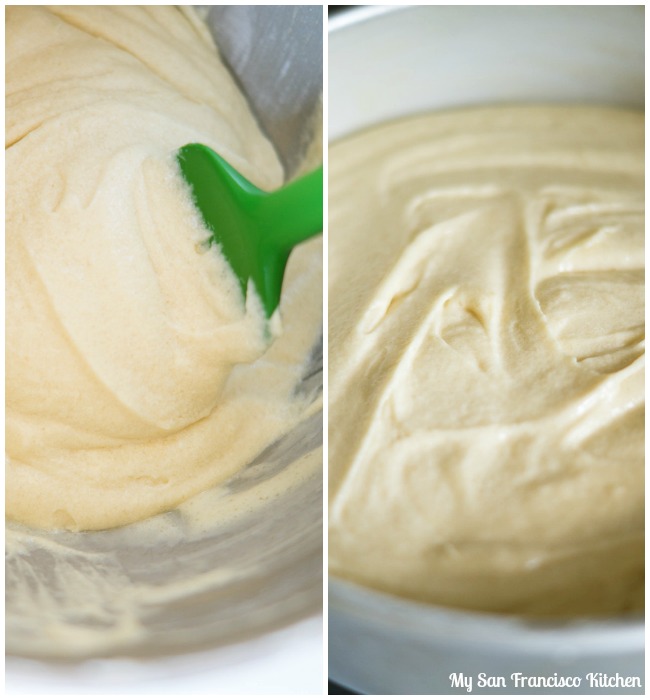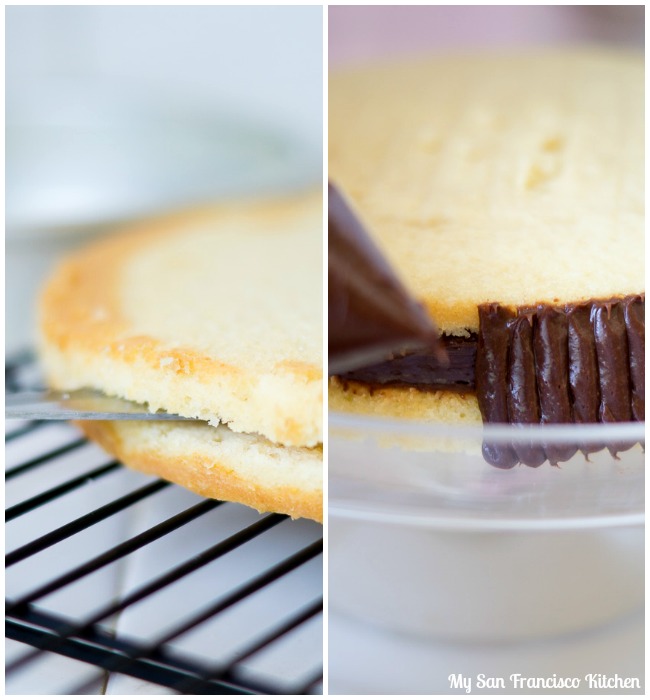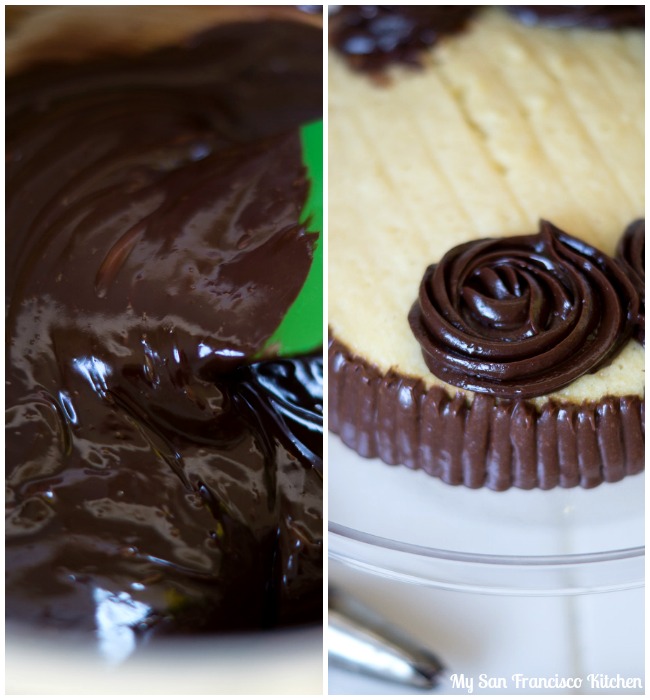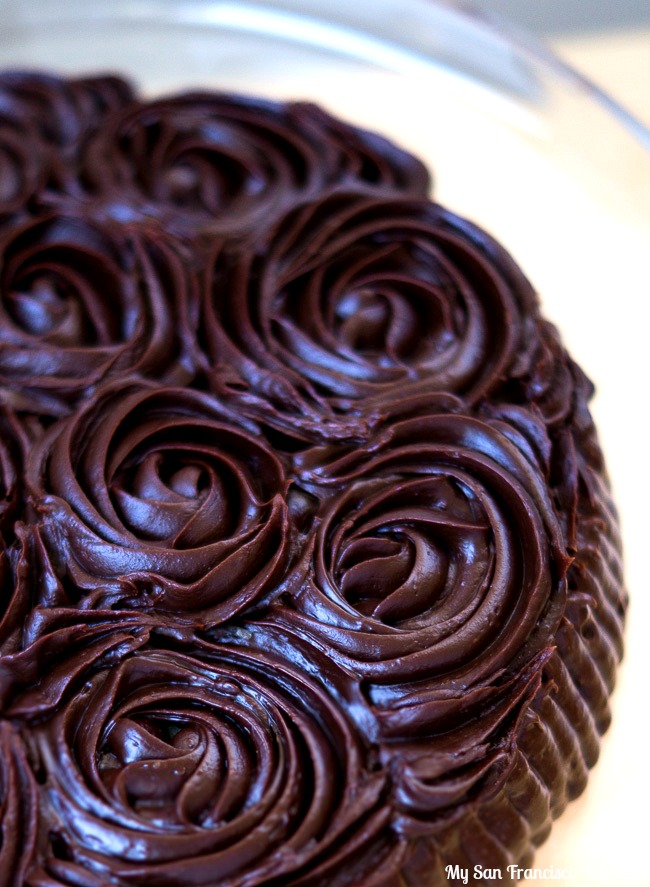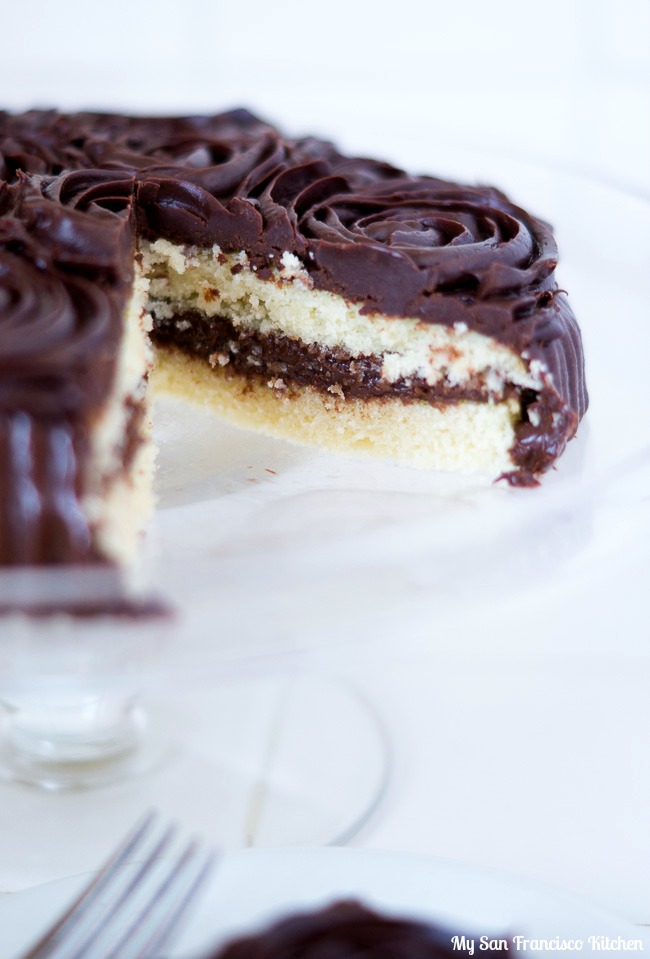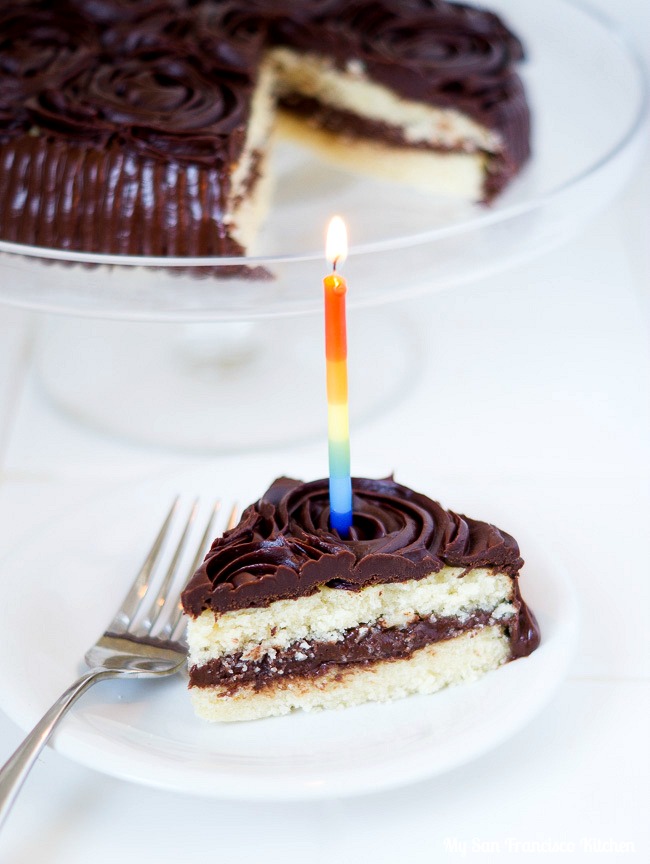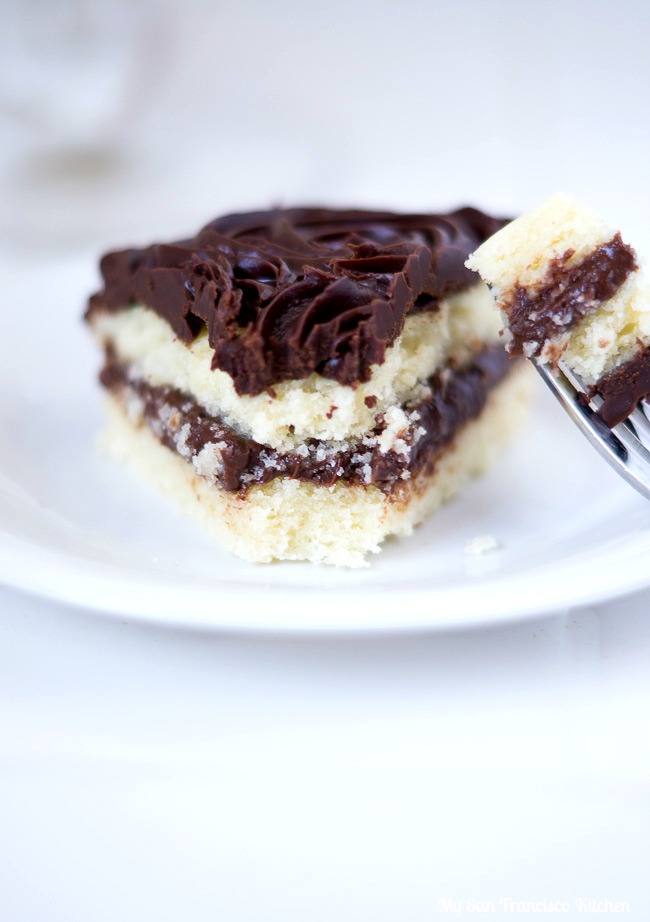 Chocolate Ganache Yellow Cake
Ingredients
Ganache
½ bag (6 oz) bittersweet chocolate chips
½ bag (6 oz) semi-sweet chocolate chips
1 cup heavy cream
Yellow Cake
1 cup buttermilk
14 tbsp butter, room temperature
1¾ cup granulated sugar
2 eggs, separated
3 tsp vanilla extract
2 cups cake flour (or 1¾ cup all-purpose flour)
1 tsp salt
3 tsp baking powder
Milk chocolate frosting (or can use ganache for center filling and sides of cake)
Instructions
Grease 2 9-inch round cake pans with butter and shake flour inside to coat them well. Set aside.
Preheat oven to 325 degrees F.
In a mixing bowl, whisk together the flour, salt, and baking powder. Set aside.
In another mixing bowl, cream together the butter and sugar.
Add the egg yolks and vanilla while beating on low until blended.
Slowly add the dry ingredients while beating, alternating with the buttermilk,
Now beat the egg whites until foamy, and fold into the cake batter with a spatula - do not over mix!
Bake for 30 minutes, until a toothpick comes out clean and cool.
In the meantime, bring the heavy cream to boil in a pot and pour over the chocolate. Stir until smooth. This is very important - do not allow unmelted chunks or it will affect the piping later!
Set the ganache aside to cool, about 2 hours at room temperature. Once you can scoop it with a spoon and it hold texture, it is done and ready for piping!
Once cool, frost the top of one cake with either milk chocolate frosting or ganache and top with the other cake. Frost the sides (can make it smooth or add frosting to a plastic bag with a hole cut in the corner and "draw" stems around the cake).
Spoon the ganache into a cake decorating bag fitted with Wilton D2 large star tip and beginning on the outer edge of the top of the cake start piping the ganache and swirl outwards twice around your center point to make a rose. Continue around the cake and in the center.
Makes 1 double layer 9-inch cake
Did you make it? I'd love to see! Snap a pic and share via #mysanfranciscokitchen, or tag my social media sites!