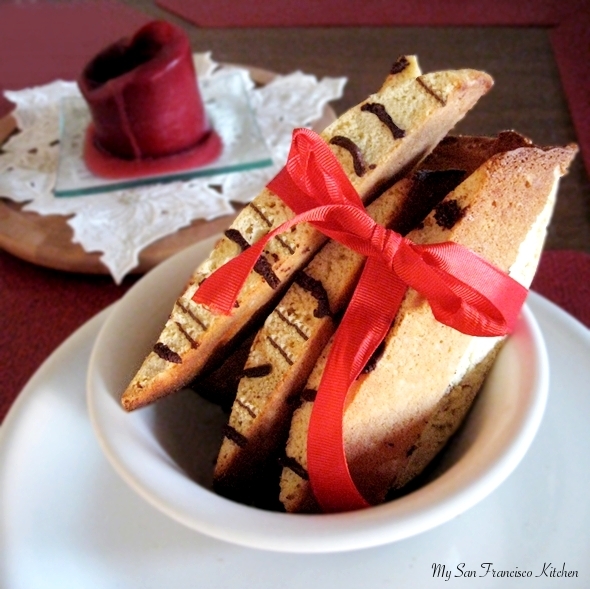 These lightly sweetened biscotti are made with sliced almonds mixed in and sprinkled on top, and are drizzled with chocolate. They go perfectly with a hot cup of coffee or hot chocolate, and make great gifts for any occasion. Some biscotti I have tried have been way too hard…these are crunchy, but not too hard on the teeth. Dunk them in your favorite drink to soften even more. When I made this last batch, they were all gone within 24 hours! You might want to double the recipe… 🙂

Chocolate Drizzeld Almond Biscotti
Ingredients
¼ cup unsalted butter, softened
½ cup granulated sugar
2 eggs
½ tsp vanilla extract
1 cup all-purpose flour
1 tsp baking powder
Pinch of salt
¼ cup sliced almonds
1 tsp milk
1 tbsp sugar for garnish
¼ cup semi-sweet chocolate chips
1 tbsp unsalted butter
Instructions
In a standalone mixer, cream butter and sugar.
Add eggs, one at a time, then add vanilla.
Combine dry ingredients in a separate bowl.
Add flour mixture a little at a time to creamed ingredients.
Carefully stir in sliced almonds with a spoon or spatula. /
Preheat oven to 375 ºF.
Using a spatula and hands, spread dough into a 12-in. x 3-in. rectangle on a baking sheet.
Brush with milk and sprinkle with sugar and almonds as desired.
Bake for 15-20 minutes, or until golden brown and firm.
Remove from oven and reduce heat to 300 ºF.
Transfer to a wire rack using a spatula, and let cool for 15 minutes.
On a cutting board, slice pieces diagonally ½ in. thick.
Place slices cut side down on baking sheet.
Bake for 10 minutes, then turn over and bake 10 minutes more.
You can leave cookies in oven with door open to cool, or remove to cooling rack right away depending on how hard you want them!
Once cool, melt semi-sweet chocolate chips and butter in a saucepan on low (careful not to burn) or in microwave 30 seconds are a time. Stir occasionally.
Place melted chocolate in a old honey container or plastic bag with corner cut and drizzle or spread melted chocolate over biscotti as desired.
Makes 10 biscotti
This post is sponsored by: