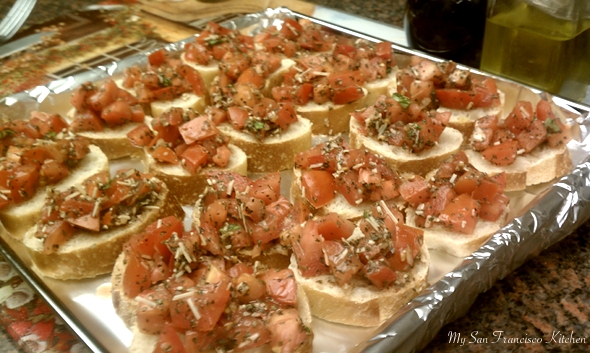 I am visiting my parents for Thanksgiving weekend, which means I get to use my Mom's kitchen (yesss!). Last night I made bruschetta for an appetizer, but realized we did not have any fresh basil in the house except for 1 leaf. I decided to try with basil seasoning and see how it turned out. I barely noticed the difference! Even though I still prefer using fresh basil, this recipe definitely saves you some chopping time and its ready in less than 20 minutes.

Easy Bruschetta Appetizer
Ingredients
1 loaf sour dough bread, thinly sliced
3 roma tomatoes, diced
⅓ cup fresh basil, chopped (can sub. 3 tbsp basil seasoning)
2 cloves garlic, minced
3 tbsp shredded Parmesan cheese
2 tbsp olive oil
1 tbsp balsamic vinegar
¼ tsp black pepper
1 pinch salt
Instructions
Preheat toaster oven to 325 °F.
Cover a toaster oven pan (12x12 inches) with aluminum foil.
Dice tomatoes and chop basil well.
Mix tomatoes, basil, Parmesan cheese, garlic, olive oil, balsamic vinegar, pepper, and salt with a fork in a large bowl.
If you have time, let sit covered with plastic wrap for 1 hour in refrigerator.
Slice sour dough bread into thin slices and place on pan.
Scoop 1 tbsp and spread over bread slices.
Sprinkle Parmesan cheese over the bruschetta, and quickly pour a little more olive oil over each slice to finish.
Place into toaster oven at 325 °F for about 10 minutes. Bread should be toasted, but not too hard.