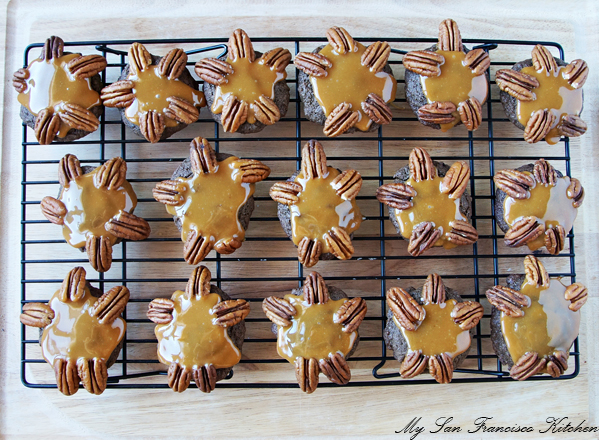 My absolute favorite dessert is anything with chocolate and caramel. This is a fun recipe for turtle cookies, which combines a soft chocolate cookie with gooey caramel and pecans in the shape of turtles. You can use my double chocolate cookie recipe for the cookies, but I omitted the extra chocolate and just made chocolate cookies with a tiny bit less sugar since the caramel is already so sweet. I have to warn you: if you are on a diet, DO NOT make these cookies! I would say I am usually pretty disciplined, but I could not stop eating these cookies they are soo incredibly delicious! I won't let myself make them again until Thanksgiving where I can give them to everyone and only eat ONE myself haha. I was curious why the chocolate/caramel combination was given the name "turtle", and according to Wikipedia, a candymaker in 1918 pointed out the chocolate caramel candies they were making looked like turtles. I guess the name stuck ever since! We saw BEAUTIFUL turtles in Hawaii during our honeymoon (see pic below), and when I was making these turtle cookies it made me a little nostalgic. When can we go back?! We are planning a trip for this weekend that I am super excited about. More details later.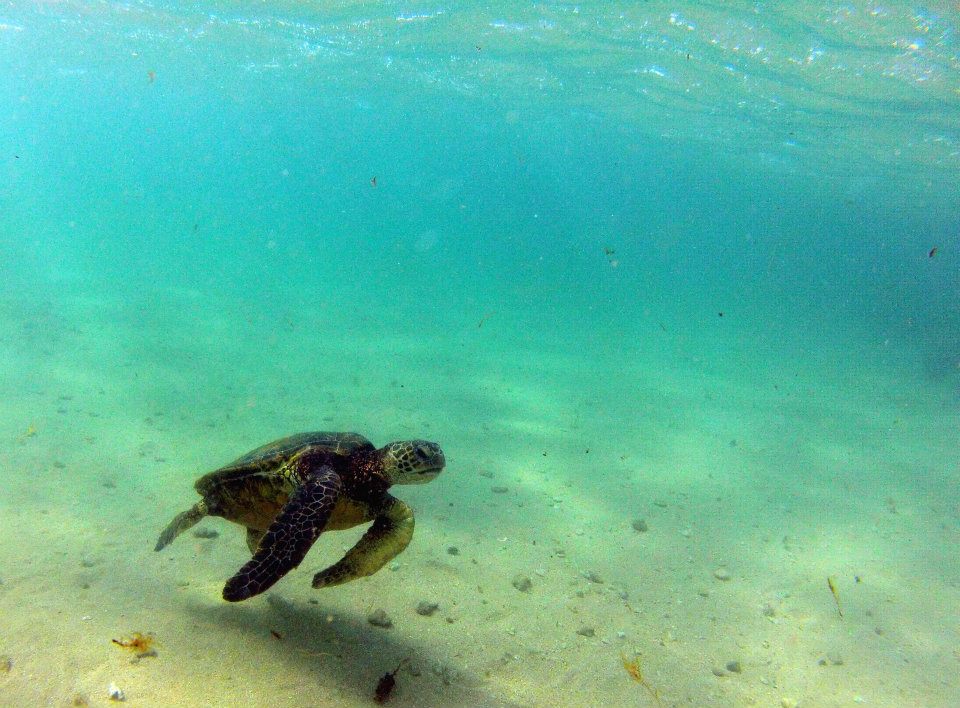 Ingredients
½ cup unsalted butter (1 stick, room temperature)
½ cup and 2 tbsp white sugar
1 egg
1 tsp vanilla
1 cup all-purpose flour
⅓ cup unsweetened cocoa powder
½ tsp baking soda
Pinch of salt
20 caramel squares
80 pecans
Instructions
Preheat oven to 350° F (175° C).
In a mixing bowl, beat room temperature butter, sugar, eggs, and vanilla until creamed together.
In a separate bowl, mix flour, cocoa, baking soda, and salt with a fork.
Add flour/cocoa/baking soda/salt mixture a little at a time into butter/sugar/eggs/vanilla mixture by beating at low speed until well blended.
Using a teaspoon or cookie scooper, drop batter onto cookie sheets, leaving an inch around each cookie drop.
Place into oven and bake for 8-10 minutes.
Let cool 2 minutes before transferring to a cooling rack.
Add 2 tbsp water and caramel squares to a small saucepan and melt over low heat, stirring frequently.
Place a sheet of wax paper under the cookie rack to avoid a big mess.
Drop 1 tsp melted caramel over each cookie and place pecans on top for the head, arms and feet. Swirl caramel with a spoon as it cools to keep it from dripping everywhere.
Place in the refrigerator for 30 minutes to allow caramel to set.
Drizzle melted chocolate over each turtle for an extra delicious treat.
Makes 16 cookies
This post is sponsored by: