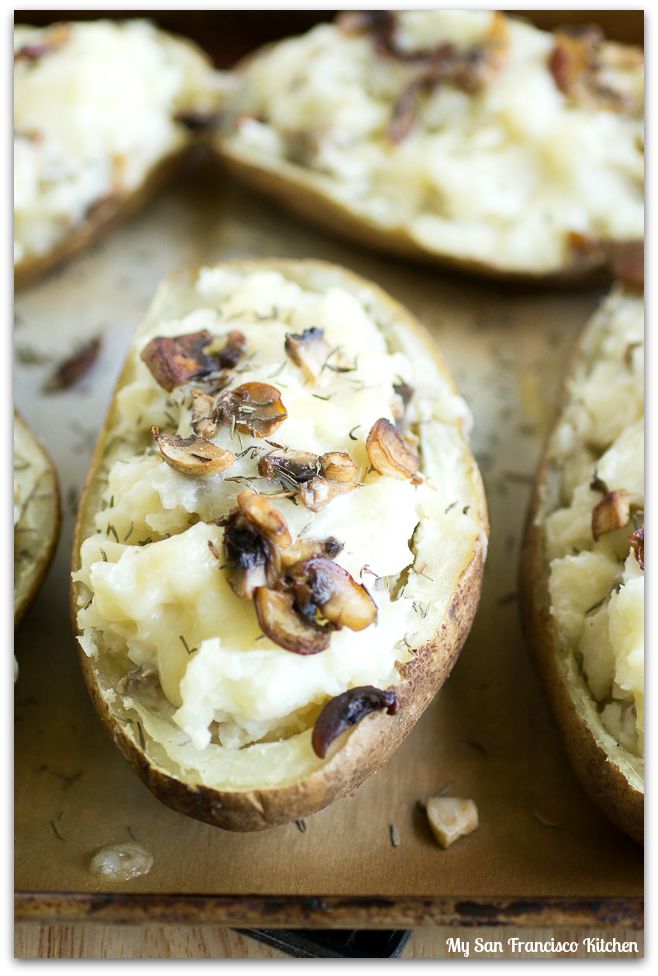 Next week is going to be an exciting one… Leila turns 2 months old and can finally use her stroller (so far we have been using the Beco Gemini carrier, which has been great!). Also, Tuesday is our 3 year wedding anniversary and first date without baby. I was thinking of making a special treat next week to celebrate these special occasions, and want to know what you guys think…please comment below with ideas!
What should I make for our 3 year anniversary?
Today I made these twice baked potatoes with mushrooms and Gruyére cheese. They do take a very long time to make, since you first need to bake the potatoes for an hour and then you have to make the filling and bake them again (hence the "twice baked"). However, most of the time is just waiting! They are actually very easy to make. For the filling, I scooped out the baked potato pieces and mashed them together with sour cream, milk, and salt. Then, I mixed in the sautéed mushrooms and cheese. Fabi really liked them 🙂
Thursdays are usually my weight-in days, but I forgot this morning and don't really want to do it now since it is most accurate first thing in the morning. Last week I didn't lose anything – my weight stayed exactly the same. I am hoping I am burning off some fat while gaining muscle at the same time, and maybe that explains it!! Here is where I am so far: 21 lbs down from final pregnancy weight, and 14 lbs up from pre-pregnancy weight. Patience, patience, patience…
Last night I went to spinning class and took a test of what my target "functional threshold watt rate" is, and I was really proud of the number I got because it was much higher than when I first did the test a few weeks ago. When I tried to maintain it for the remainder of the class, however, I couldn't do it! The instructor told me to drop it 5 points, which is still a much higher number than a few weeks ago so I think I still made good progress!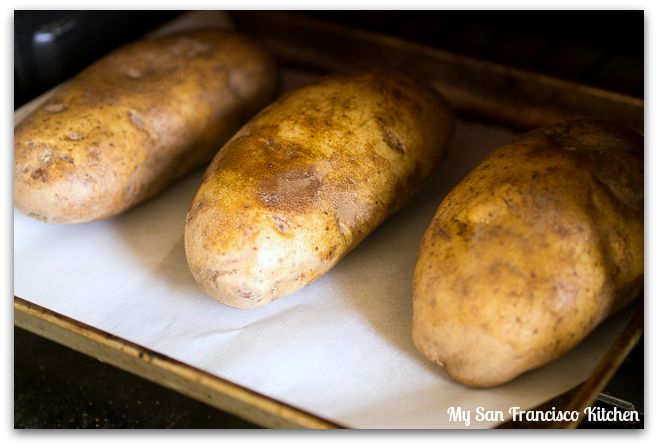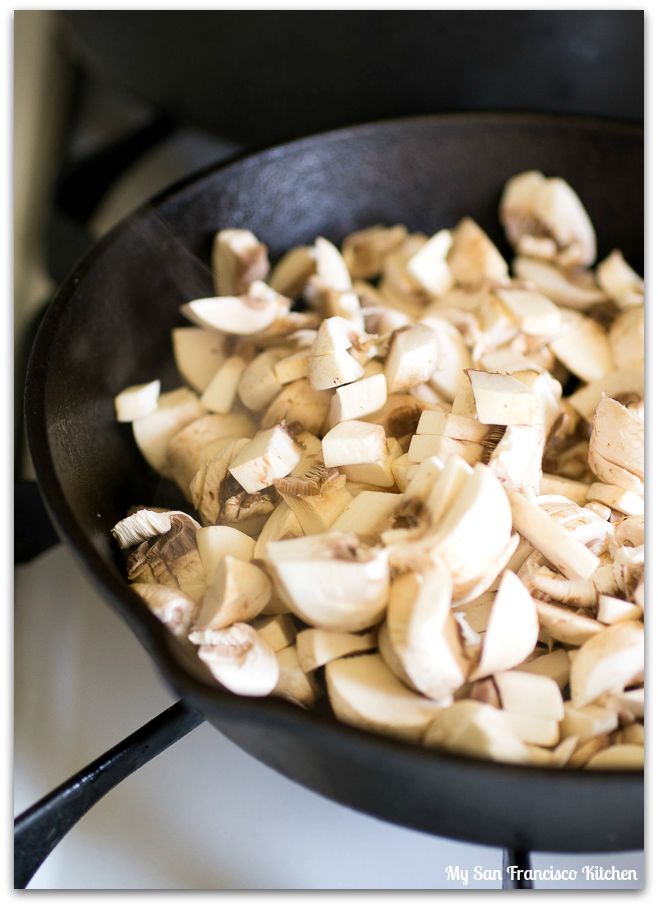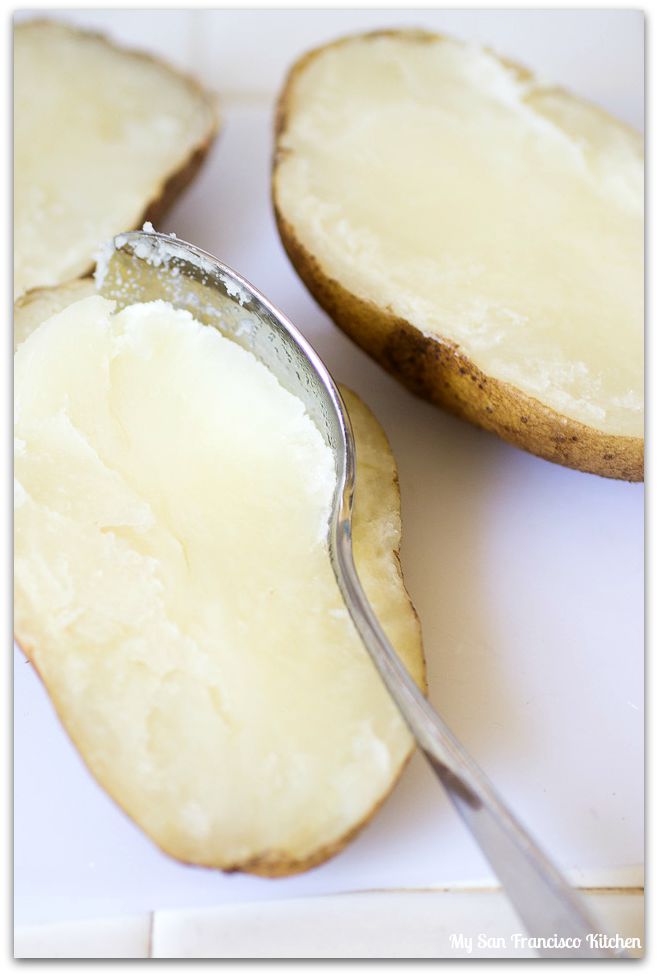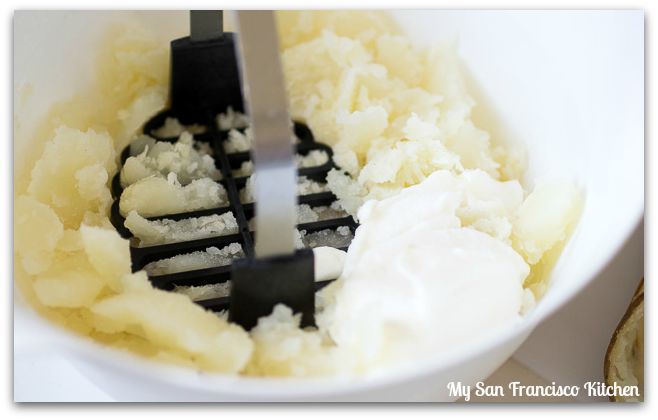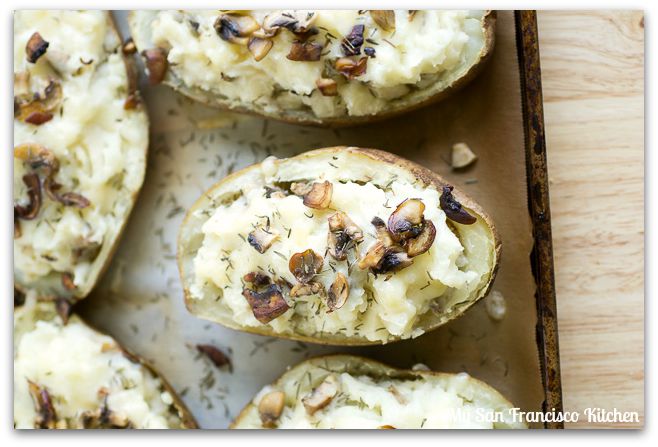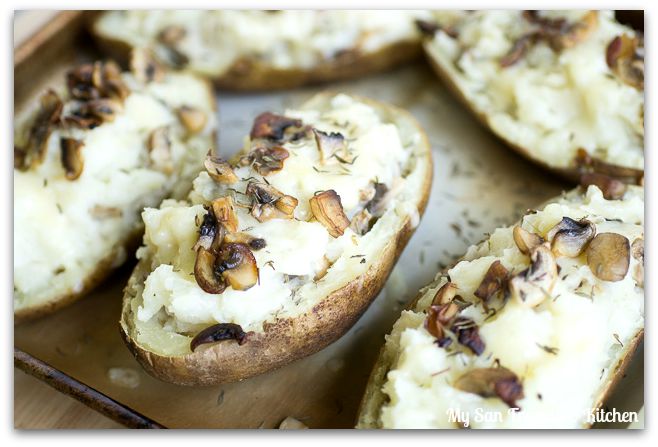 Twice Baked Mushroom and Gruyére Potatoes
Ingredients
4 russet potatoes
2 tbsp butter
8 oz white mushrooms, chopped
½ cup sour cream
¼ cup milk
Salt, to taste
½ cup shredded Gruyére cheese
½ tsp dried thyme
Canola oil
Instructions
Preheat the oven to 400 degrees F.
Wash and dry the potatoes, then rub them well with canola oil.
Place the potatoes on a baking sheet and bake for 1 hour.
Remove the potatoes and allow to cool for 15 minutes.
In the meantime, melt the butter in a skillet over medium heat, then add the chopped mushrooms.
Sauté the mushrooms over medium heat, stirring occasionally, until they are brown (about 7 minutes).
Slice the potatoes in half and scoop out the baked potato pieces into a mixing bowl, leaving some around the edge.
Add the milk, sour cream and salt and mash.
Add the mushrooms and cheese, leaving some for topping later, and stir.
Fill the potato shells and place on the baking sheet and add additional cheese and mushrooms to the top.
Bake for 10 minutes, until cheese is melted.
Makes 8 potato halves