This healthy farfalle pasta is made with freshly roasted golden beets, kale and pine nuts. It is tossed with olive oil, salt, pepper and a light alfredo sauce for flavor.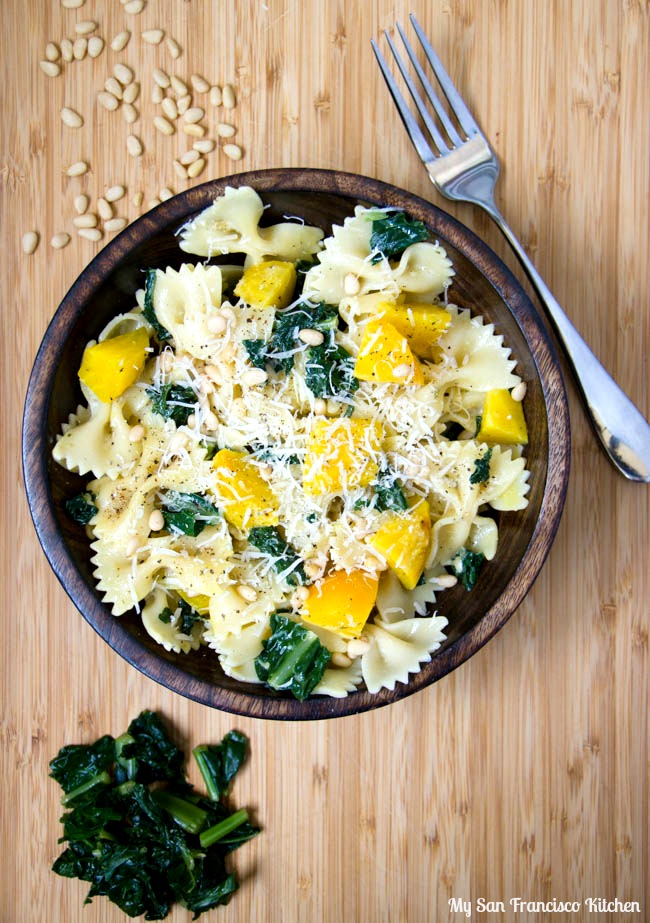 I have been MIA for the past few weeks, and I think this may have been the longest I have gone without posting a recipe on here. Where have I been? Busy rearranging our apartment and vacation! We just got back from Key West, Florida where we celebrated a wedding of our friends (see my Instagram for photos).  I purposely left my laptop at home, because whenever I bring it and don't intend to work, I end up working a lot of the time. It felt so free to be without it for so long, but I missed you guys!!
During my little break from MSFK, Fabi and I did some reflecting on the way we eat and take care of ourselves. Part of our reflection included our desire to eat more colorful vegetables, and less sugar, butter, and unhealthy foods. What does this mean for MSFK? Well, you will be seeing more healthy recipes and less baked goods/unhealthy recipes. When I first started MSFK, a lot of the recipes I posted were desserts, because I love to bake (and eat baked goods). Over the past few years, we have watched people we know and love suffer heart attacks and other heart disease problems. A common factor was eating unhealthy. This motivated Fabi and I to take charge of our lifestyle and vow to eat more healthy by thinking less about the right now and more about the future implications.
When we got back from Florida, we bought bags of fresh, colorful, organic vegetables and stocked our fridge full. The first recipe of our "new lifestyle" I created is this yellow beet, kale, and pine nut farfalle. Beautiful yellow beets are roasted in the oven, peeled and cubed while kale is steamed and farfalle is boiled. This healthy pasta dish is tossed with olive oil and a light, low-fat alfredo sauce made with low-fat milk and a little Parmesan cheese. It is seasoned to taste with salt and pepper and topped with freshly grated Parmesan cheese in the end.
In my opinion, the beets really make this dish. Yellow beets are so flavorful! You won't miss meat at all, but you can also add grilled chicken or salmon to this vegetarian pasta dish.
I am excited to share more healthy recipes with you, and can't wait to hear what you think 🙂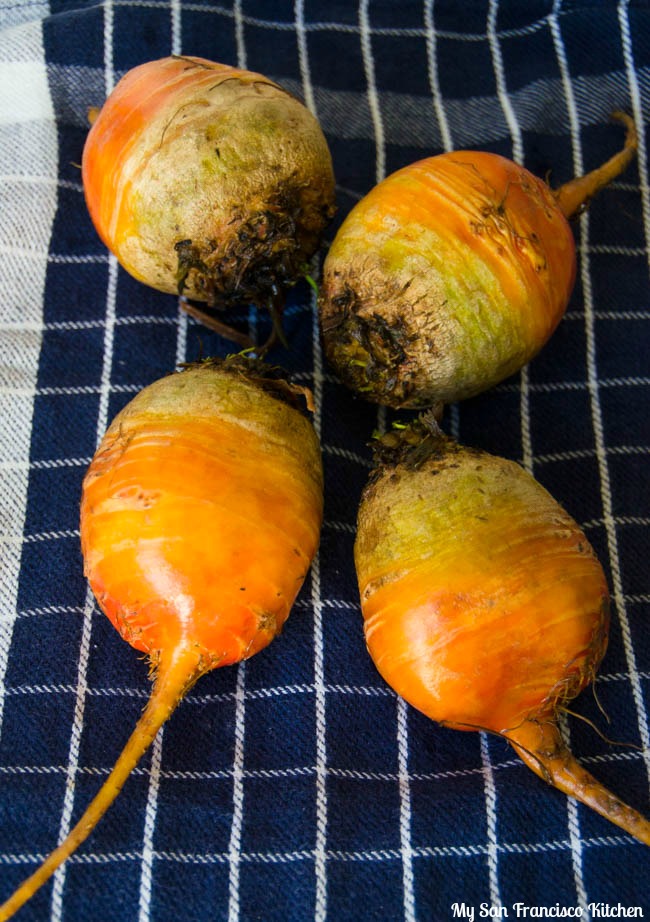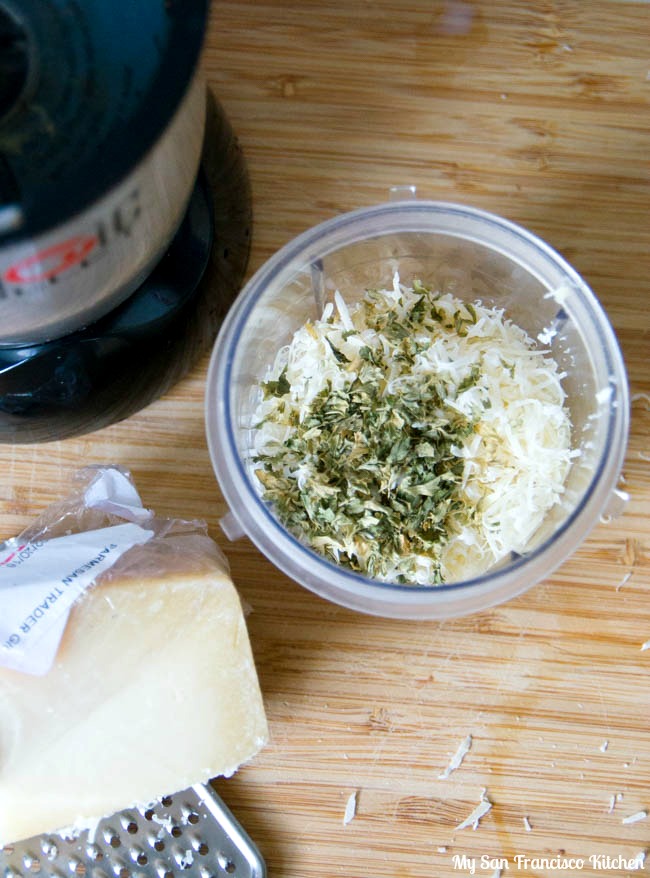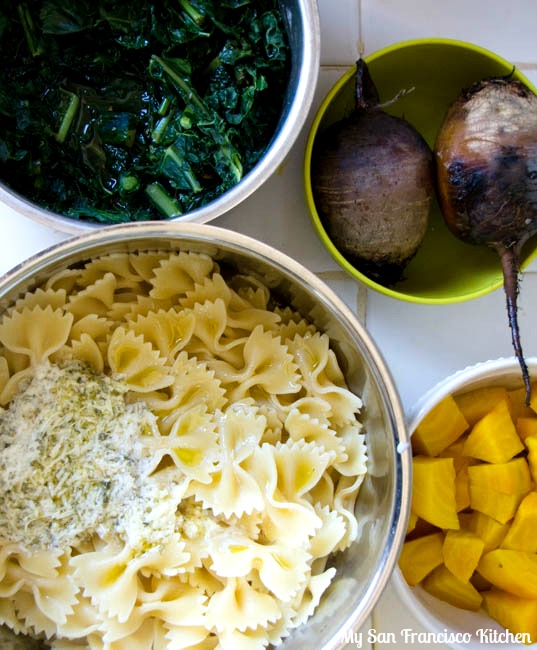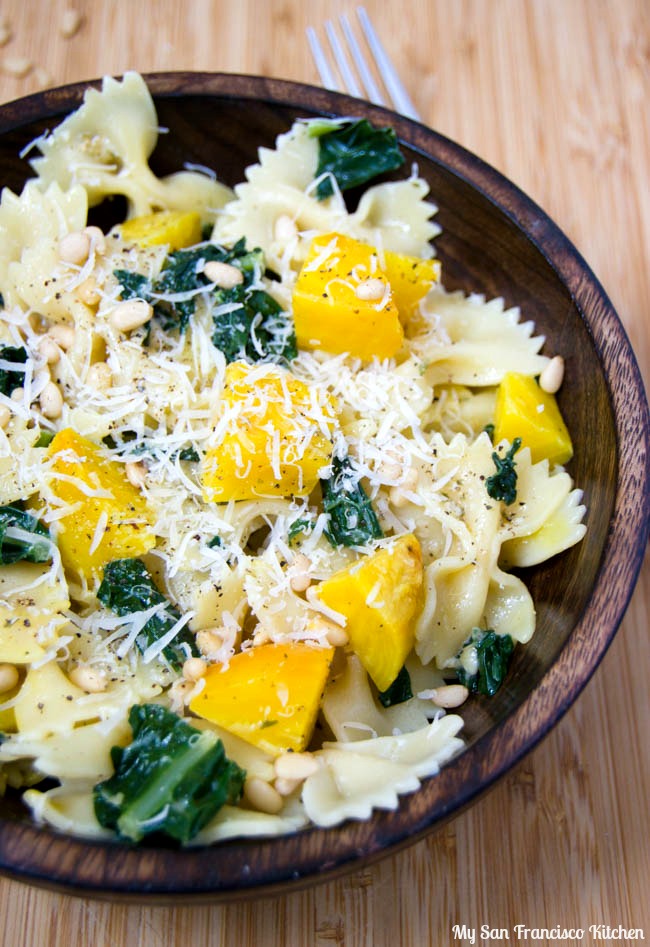 Yellow Beet, Kale and Pine Nut Farfalle
Ingredients
1 lb farfalle pasta
2 large golden beets
2 cups kale
⅓ cup pine nuts
½ tsp lemon pepper
½ tsp salt
⅔ cup Parmesan cheese (plus more for topping)
½ cup low-fat milk
2 cloves garlic, minced
¼ cup olive oil
Instructions
Preheat the oven to 425 degrees F.
Wash and scrub the beets, then wrap them in aluminum foil.
Bake the beets for 45 minutes, or until a knife pierces through easily.
Cool the beets, then peel and cube them and add to a large mixing bowl.
Boil or steam the kale until soft, about 10 minutes. Drain well and add to the mixing bowl.
Bring a pot of water to a boil and cook the pasta according to package directions. Drain well and add to the bowl.
Add the Parmesan cheese, milk and garlic to a blender and blend well. Pour over the pasta and toss
with the olive oil.
Add more salt and pepper to taste.
Makes 4 servings