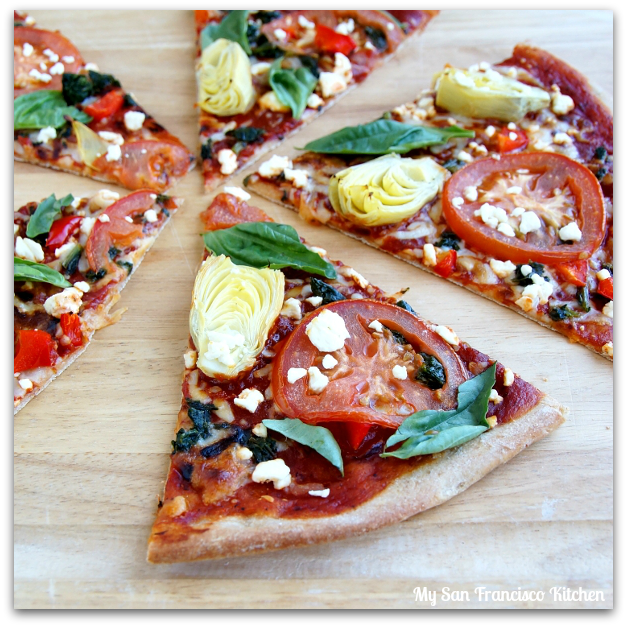 It was a gorgeous day in the city today, but unfortunately I was roaming the hospital all day and only got to enjoy the beautiful view from the floors. I am so glad it is Friday! That means a weekend of sleep and COOKING! This entire week I have been too tired to cook very much after coming home from a long day. I guess I am still adjusting to work-life.
Growing up, we frequently had Friday night pizza nights, and most of the time my mom and I made homemade pizza from scratch. Although it is a long process (mostly waiting for the dough to rise), it is worth it in the end! To this day, I rarely order pizza because I enjoy homemade pizza much more. Sometimes it is so nice to stay in, eat homemade pizza and watch a movie on a Friday night.
I remember my old colleague coming back from a doctor's appointment and telling me he had told her pizza is the most unhealthy food you can eat. Now, this was a problem for me because I consider myself to generally have healthy eating habits – except for my love for pizza! I agree that most pizza by delivery and store-bought contain a huge amount of fat and sodium, but when I make my pizza from scratch I add much less sodium (I even use a no-sodium pizza sauce when I can), use a minimal amount of low-fat mozzarella cheese, and try to top it with freshly cut organic vegetables. How can that be unhealthy ;)? It is definitely much more work than calling up your favorite pizza place and having them deliver a pizza to your door in 30 minutes, but it is better for you and so FRESH!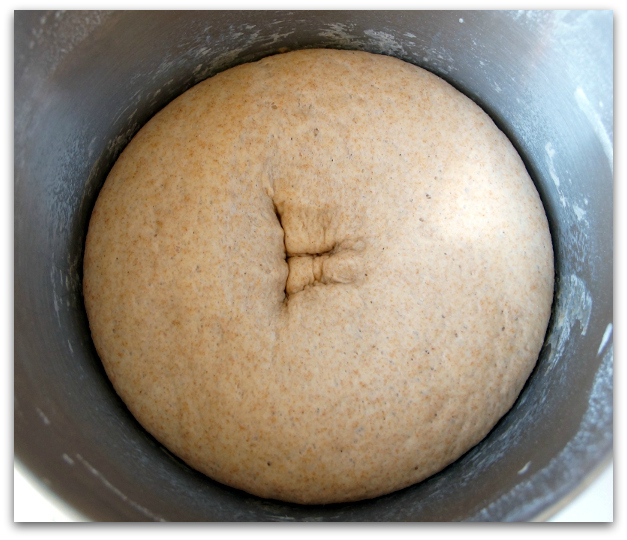 In other news, I am excited to announce that I am the newest member of the Cooking Light Bloggers' Connection. I am so excited about this, and can't wait to share some of their delicious, healthy recipes with you guys!
Now back to this homemade whole wheat vegetarian pizza….

Whole Wheat Vegetarian Pizza
Ingredients
1 package dry yeast (2¼ tsp)
1 cup warm water
1½ cups whole wheat flour
1 cup all-purpose flour
1 tsp salt
1 tsp sugar
4 tbsp olive oil, divided
2 cups pizza sauce
1½ cups low-fat mozzarella cheese
2 cups artichoke hearts, sliced in half
1 cup frozen organic chopped spinach
2 organic tomatoes, thinly sliced
1 organic red bell pepper, chopped
1 cup non-fat feta cheese
1 cup fresh organic basil leaves
Pepper to taste
Instructions
Add yeast, sugar and warm water to a mixing bowl. Let stand for 7 minutes.
Add salt and whole wheat flour and mix with a wooden spoon or a hook attachment if using a stand mixer.
Add olive oil and remaining flour a little at a time while mixing.
Continue to mix until dough is clearing the sides of the bowl without sticking (add more flour if needed).
Turn onto a floured surface and knead for 10 minutes (or continue mixing with the stand mixer using a hook attachment for 8 minutes).
Place dough in a lightly greased bowl and cover with a dish towel.
Let the dough rise for 1 hour in a warm place, then punch down.
Allow the dough to rise another hour, chopping the vegetables while you are waiting.
Preheat oven to 425 degrees F.
Cut the dough in half and roll one half as thin as you would like your crust to be with a rolling pin on a floured surface.
Transfer the dough to a greased pizza pan, and repeat for the other half of the dough (or save for later in the refrigerator up to 2 days).
Top the dough with ½ tbsp olive oil and spread around the top.
Spread 1 cup of pizza sauce around the dough, and top with cheese and vegetable toppings. Sprinkle with pepper if desired.
Bake each pizza for 15-20 minutes.
Remove from oven and top with fresh basil before serving.
Makes 2 pizzas