OK, it has been well over a week since I have seen the sun in San Francisco. After a few years of living here, I have accepted that there is no real summer living in this city, but I don't think I will ever be used to waking up to a cold cloud of fog outside everyday. I shouldn't even bother straightening/curling my hair, because by the time I reach my work it looks like I just got out of bed. I am as white as a ghost and forgot what summer feels like!
Have you ever made risotto before? I actually had it for the first time when my friend and her sister taught me how to cook it just a few weeks ago. We made a creamy mushroom risotto. I loved it so much that I wanted to try different variations. I love how flavorful this basil risotto is, and it is the perfect filling for stuffed tomatoes! I topped them with NatureBox Tuscan Summer Mix to add a nice crunch factor, as well as some dried fruit and flavor.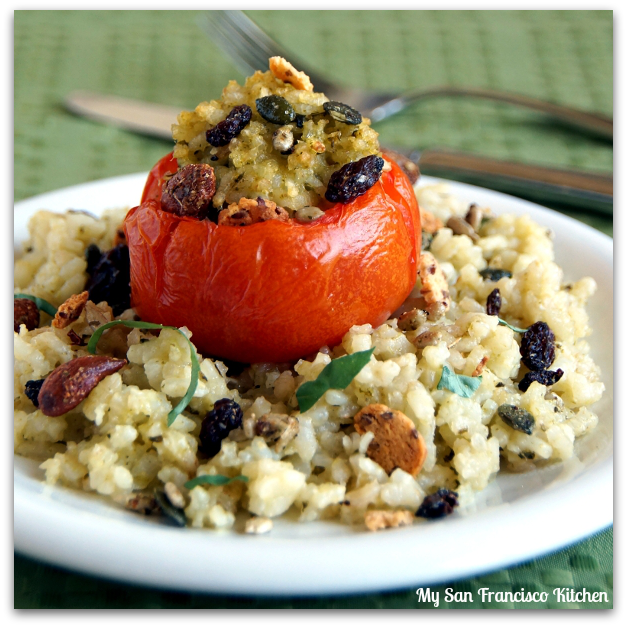 Basil Risotto Stuffed Tomatoes
Ingredients
1½ cups arborio
2 tbsp olive oil, divided
2 tbsp butter
3 tbsp lemon juice
6 cups low-sodium chicken broth
1 shallot, finely chopped
1 cup basil leaves
2 cloves garlic
½ cup shredded Parmesan cheese
½ cup NatureBox Tuscan Summer Mix http://www.naturebox.com/
6 tomatoes
Instructions
In a large pot, heat 1 tbsp olive oil and butter over medium heat until butter is melted.
Add the chopped shallots and stir for 1 minute.
Add the arborio and stir until slightly browned, about 2 minutes.
Add the lemon juice and stir.
Add the chicken broth 1 cup at a time, after each previous cup has been absorbed. Stir occasionally.
Simmer for 25 minutes uncovered, until all of the chicken broth has been added and absorbed.
In a small food processor or blender, blend the basil, garlic and remaining tablespoon of olive oil.
Add the basil mixture to the pot and stir until well combined.
Remove the risotto from heat and stir in the shredded Parmesan cheese and Tuscan Summer Mix.
Preheat oven to 350 degrees F.
Use a paring knife to cut the tops off of the tomatoes and a spoon to carve out the inside.
Rub the outside of each tomato with olive oil and place in a shallow greased baking dish.
Stuff each tomato with the basil risotto and bake for 15 minutes.
Sprinkle the tops with additional Tuscan Summer Mix and serve warm.
See this recipe on the
NatureBox blog
!