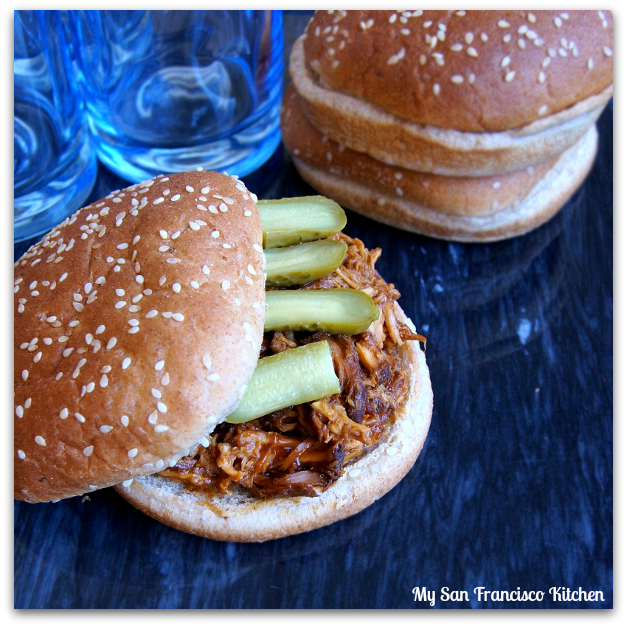 Don't you just love quick, easy, satisfying meals? This pulled BBQ chicken sandwich recipe is inspired by my Mom, and it is very easy to make! All you have to do is add some chicken breasts, BBQ sauce, brown sugar and Worcestershire sauce to a slow cooker (crock-pot) and let it cook on low for 5-6 hours. Then just shred the tender meat and serve on a bun with condiments. Crock-pot meals are lifesavers if you have a busy day and don't want to spend too much time cooking dinner when you get home. These shredded BBQ chicken sandwiches are also perfect for an outdoor picnic or get-together, since you can serve many people in no time. Let that slow cooker work for you!
I am still having some trouble adjusting to the full-time working life after being a student for so many years. I just feel so tired after I come home from a full work day! For those of you that work full-time, how do you deal with dinner? Do you plan your meals ahead of time? I am trying to figure out a better system so that I don't have to cook dinner every night after coming home from a long day. I love being in the kitchen, but lately I have been too tired to spend much time in there after work 🙁
Have a great weekend!
Pulled BBQ Chicken Sandwiches
Ingredients
2 organic, boneless, skinless chicken breasts
2 tbsp brown sugar
1 tbsp Worcestershire sauce
1 cup BBQ sauce
6 whole wheat hamburger buns
Instructions
Add all ingredients to a crock-pot and cook on "low" for 5-6 hours.
Shred the meat using two forks, then serve hot over whole wheat hamburger buns.
Serve with pickles, onions, or other condiments.