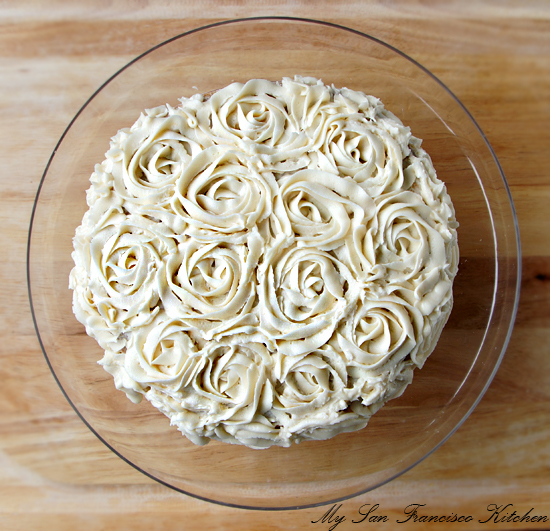 There is almost nothing better than a homemade strawberry cake recipe made from scratch with fresh strawberries. I still had tons of fresh organic strawberries left over from this week's trip to the farmers' market, and we haven't had dessert in the apartment for days. I also haven't used my new cake stand yet, given to us as a wedding gift by my best friend. I found this really cool rose cake tutorial by I Am Baker, and although I am usually terrible at cake decorating I thought I would give it a try. I used my vanilla cake frosting recipe, which turned out to be perfect because it hardened just enough to keep the roses in place without becoming too hard. When my husband walked into the kitchen just when I had finished, I'll never forget the look on his face. He goes, "What is THAT?!" I wasn't sure whether or not to take that as a compliment or not, but moments later he told me I did a great job on it 🙂 It isn't perfect, but not bad for my first try at a rose cake. Plus, it was just for me and Fabi and half of it was gone within minutes after I finished. You can double this strawberry cake recipe to make a larger cake (this one only makes one 8×8 circle cake pan, which you can split and frost the middle). It can also be used to make cupcakes.

Fresh Strawberry Cake
Ingredients
½ lb ripe strawberries (about 12), hulled
1 cup & 2 tbsp all-purpose flour, sifted
2 tbsp cornstarch
2 tsp baking powder
½ tsp salt
¾ cup granulated sugar
¼ cup milk
2 eggs
1 tsp vanilla extract
6 tbsp unsalted butter, softened at room temperature
Instructions
Puree hulled strawberries in a blender or food processor, and add to a small saucepan with ¼ cup water and cornstarch (already stirred together) and simmer on low heat.
Preheat oven to 350 degrees F.
Grease one 8 inch cake pan with butter and shake flour around until all is dusted lightly with flour.
In standalone mixer bowl, cream butter and sugar.
Add flour, baking powder and salt and mix on medium until combined into a crumbly mixture.
Add eggs and vanilla and beat at medium speed for about 1 minute or until full and evenly combined.
Add milk and ½ cup strawberry puree and mix on low until just combined.
Pour batter into cake pan and place in the oven.
Bake for about 25 minutes. Toothpick in the center should come out clean.
Remove from oven and cool 10 minutes, then transfer to a wire cooling rack. Allow cake to cool for 1-2 hours before frosting.
For the roses:
Slice cake in half and frost top layer of the middle and add puree on top.
Apply a thin layer of frosting on cake just to hide color, then put the rest of the frosting into a cake decorating bag with Wilton 2D tip (large open star).
Start in the middle and circle around 1-2 times for each rose.
Makes 1 double layer 8-inch cake (1 pan only)
See this post on Weekend Potluck!