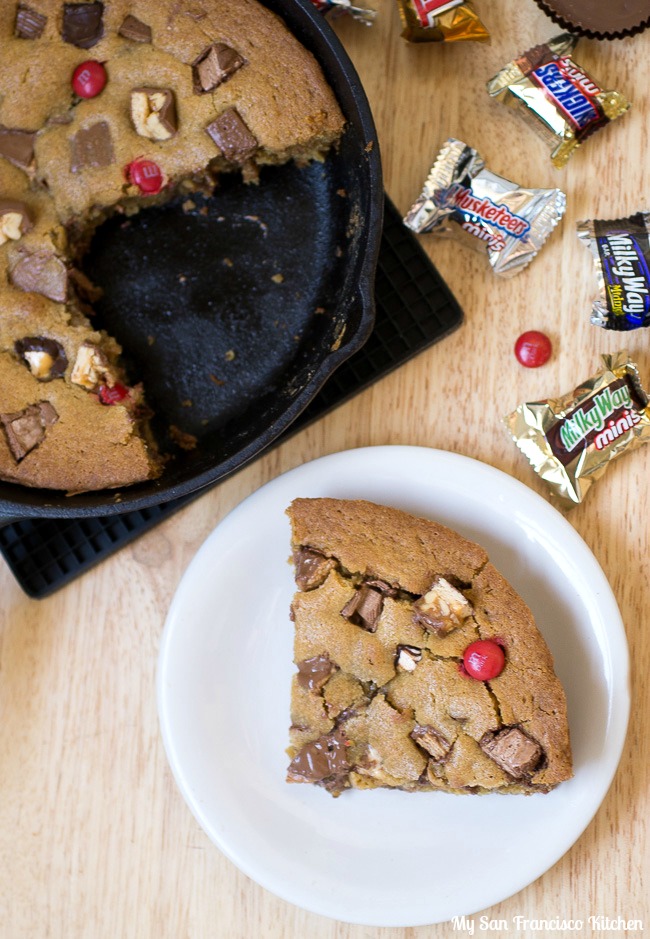 It is officially Halloween week! The countdown to Halloween is at 6 days! I remember getting SO MUCH candy every year for Halloween as a kid, and being in heaven for days after enjoying it. I'm talking pillow sacks full. This giant leftover Halloween candy skillet cookie is a fun way to use up all of that leftover Halloween candy. The most fun part about this recipe is that it is very versatile. You can add almost any kind of candy to it and it will still taste great! OK, I'm sure you can think of a few types of candy that wouldn't taste good in it, but most of the candy bars are a go. I made a 6-inch skillet cookie, but you can easily double this skillet cookie recipe to fit a 12-inch cast iron skillet.
For my Halloween candy skillet cookie, I like to use M&Ms, Twix, Reese's, Milky Way, Snickers, and Kit Kat bars. What kind of Halloween candy would you like to add in?
I am so excited to tell you guys about my new set of measuring cups and spoons from Natural Home® (see photo below). They are made of MOBOO® (molded bamboo), with bamboo sawdust from fully mature bamboo raised in well-managed forests, rice starch, and an all natural plant-based binder. These measuring spoons and cups are free of harmful chemicals found in PVC, polycarbonate and other plastics, and won't leach the chemicals into your food. MOBOO® products are BPA-free. They are just as strong as plastic and very durable. It is nice to know I am keeping my family safe and free from harmful chemicals in my cooking utensils. My red silicon spatula is also a Natural Home® MOBOO® product, and I love it!

Natural Home® is giving one lucky reader a 12-piece MOBOO® Sunflower Dinnerware Set! This BPA-free molded bamboo dinnerware set includes four 11-inch dinner plates, four 8-inch salad plates, and four 6-inch bowls. They do not contain any harmful chemicals found in PVC, polycarbonate or other plastics, and is top rack dishwasher safe. This dinnerware set is versatile, as you can use it both indoors and outdoors. It is environmentally responsible, and stylish and durable.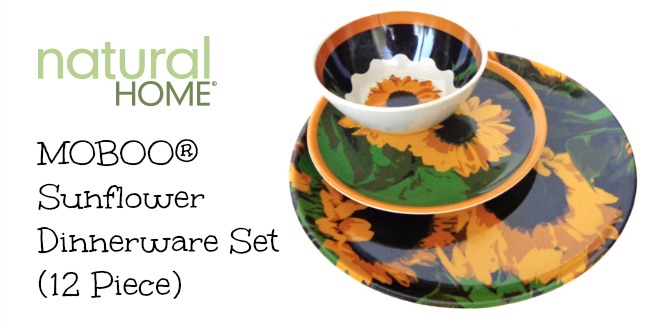 To enter to win the Natural Home® 12-piece sunflower dinnerware set, simply enter via the Rafflecopter widget at the end of this post by Sunday, 11/01/15. There are a few different ways to enter, as listed in the widget below. A winner will be chosen randomly on Monday, 11/02/15 and will be contacted via email for shipping information. If winner does not respond within 48 hours, another winner will be chosen.
US residents only.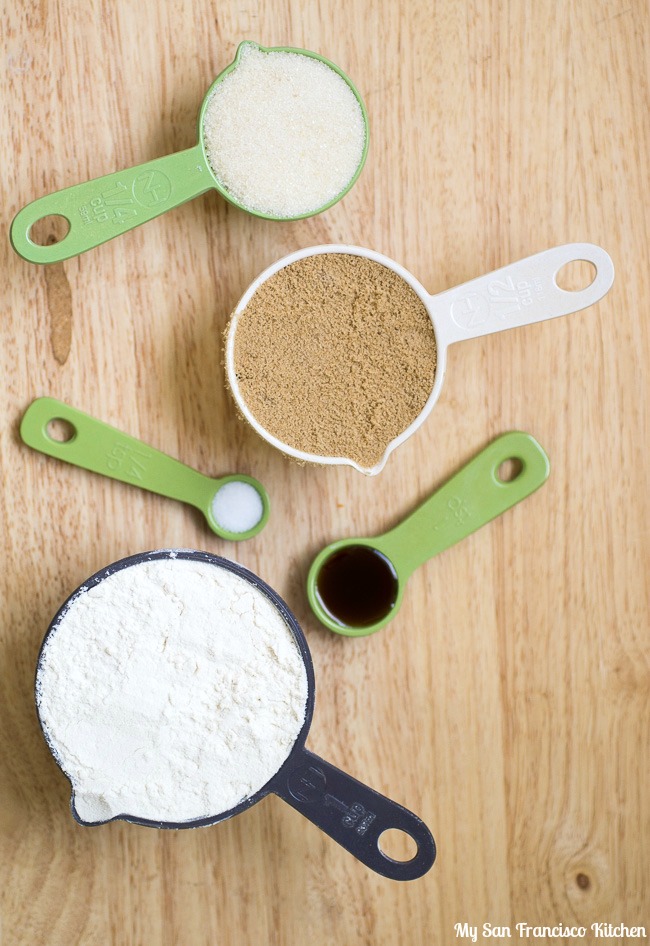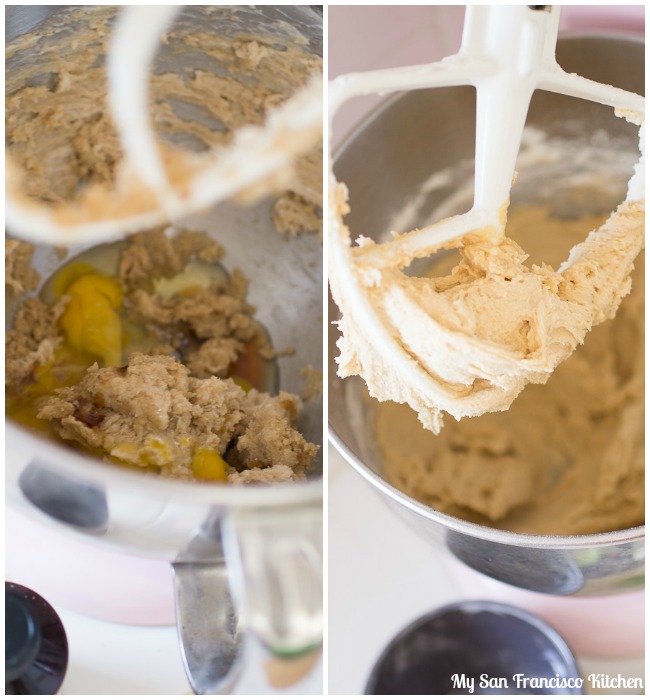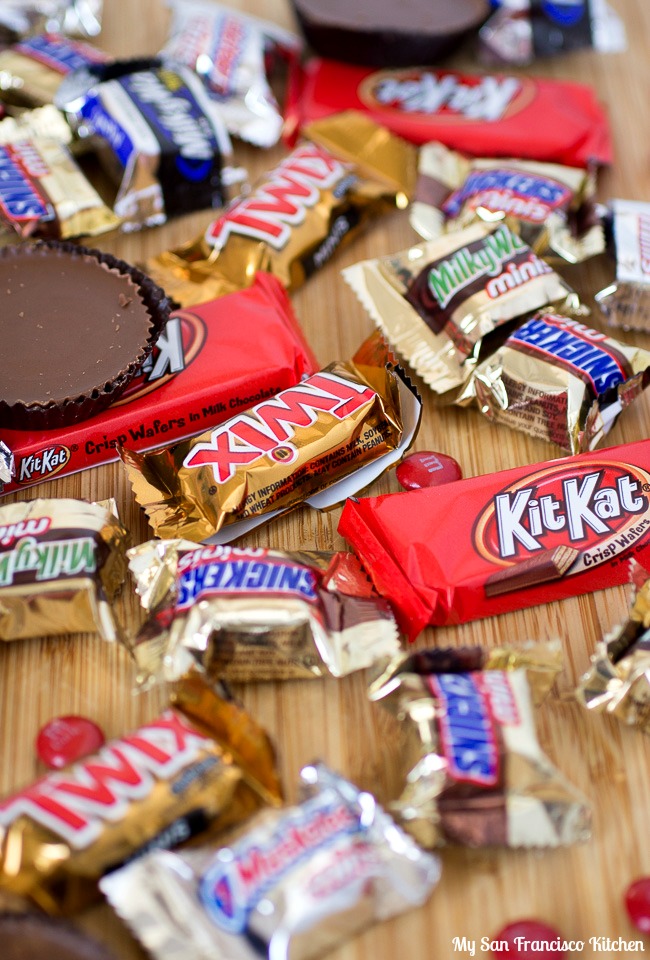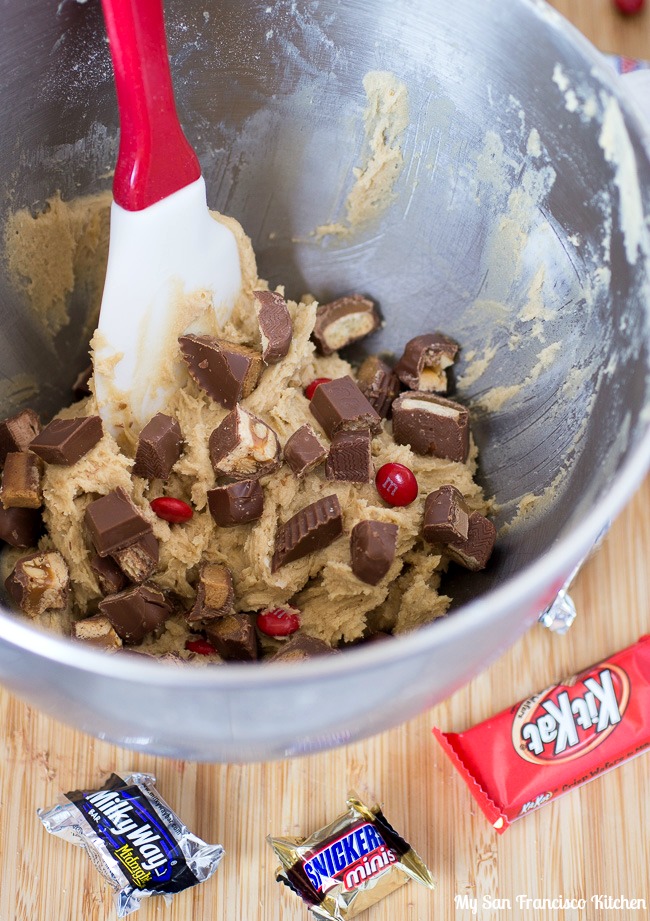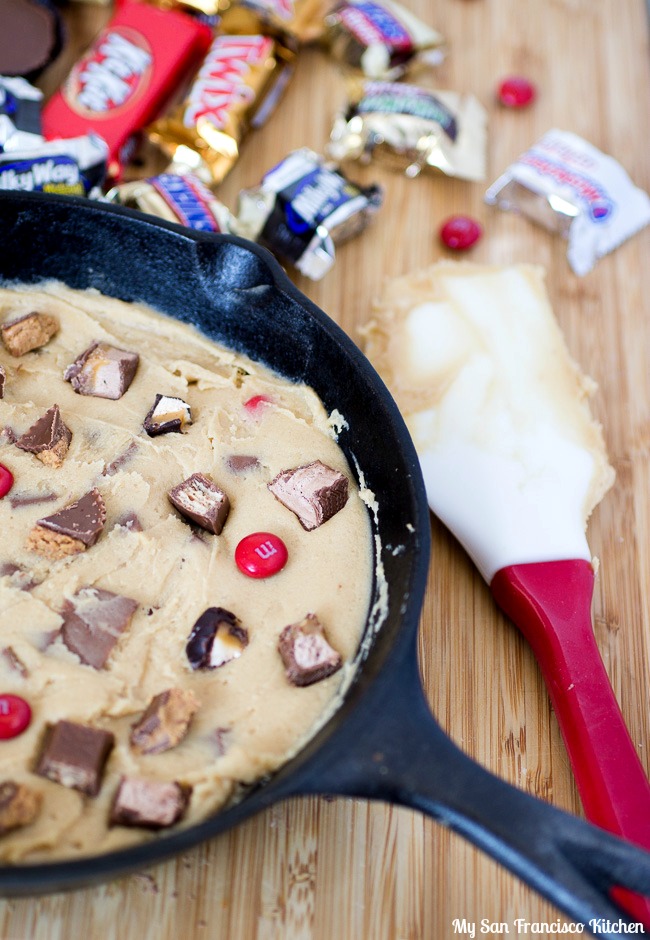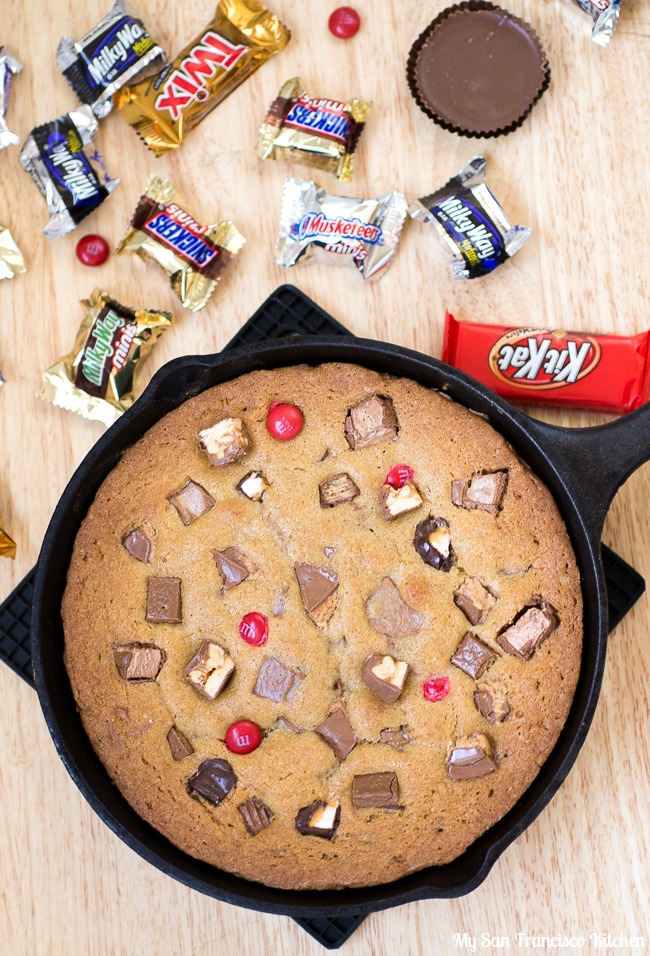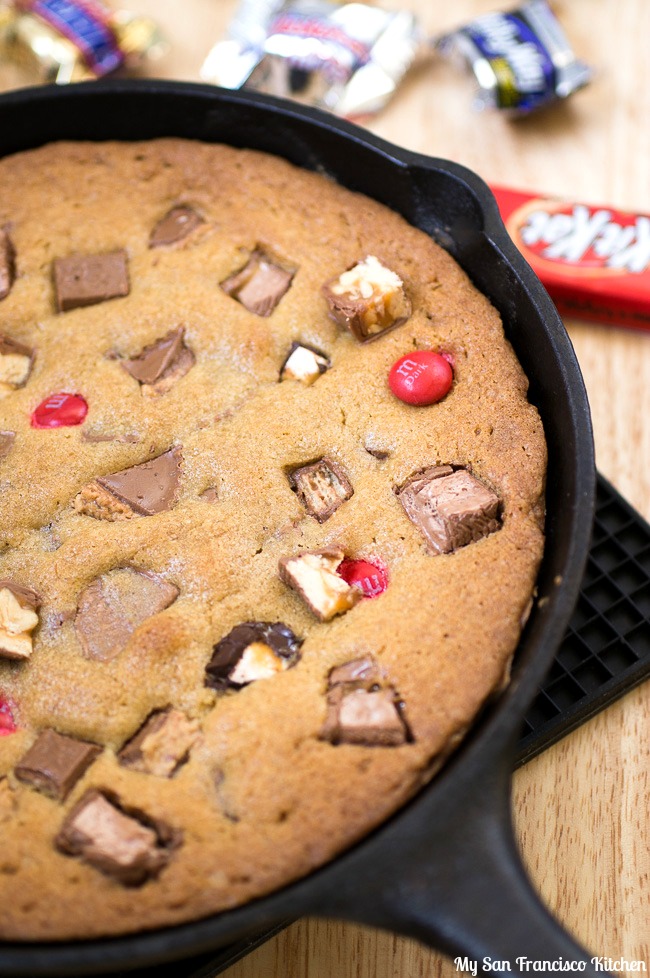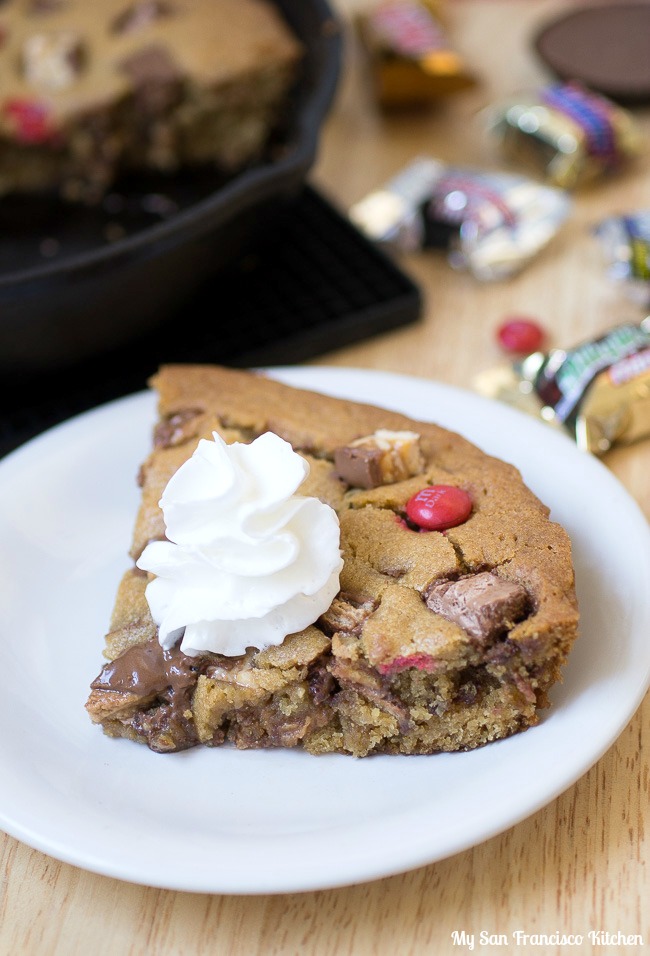 Leftover Halloween Candy Skillet Cookie + Giveaway
Ingredients
1⁄2 cup butter (1 stick), room temperature 1⁄4 cup granulated sugar
1⁄2 cup packed brown sugar
1 egg
1 tsp vanilla extract
1 cup all-purpose flour
3⁄4 tsp baking soda
1⁄4 tsp salt
1 cup chopped leftover Halloween candy
Instructions
Preheat oven to 340 degrees F.
In a mixing bowl, whisk together the dry ingredients (flour, baking soda, and salt).
Add the butter and sugars to another mixing bowl and beat until creamy.
Add the egg and vanilla and continue beating.
Slowly add the dry ingredients until you have a smooth batter.
Mix in the Halloween candy by hand with a spatula.
Spread the cookie dough into a 6-inch cast iron skillet and bake in the oven for 30-35 minutes. The edges will be browned and the center should be firm.
Remove from the oven and allow the cookie to cool in the skillet for 30 minutes before serving.
Makes 1 6-inch cookie