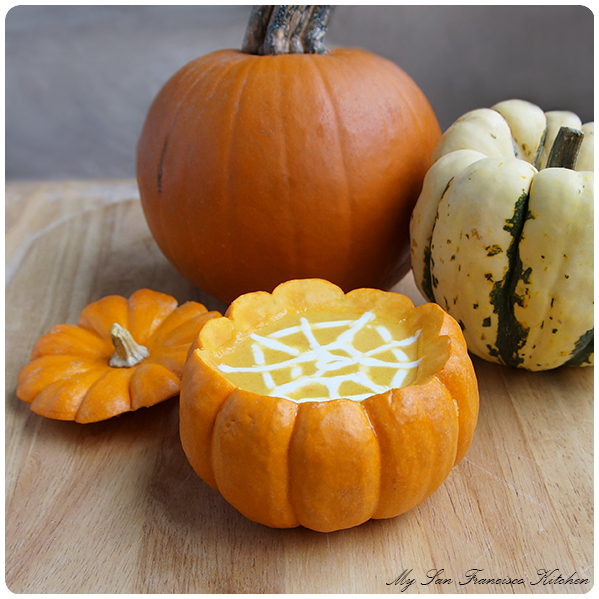 Homemade pumpkin soup made from scratch makes me so happy. It is one of my favorite comfort foods during the fall season. I can't take credit for the cute pumpkin bowl idea though, that was all my husband! One day when I was working on something for my blog, he said "Why don't you make pumpkin soup and serve it in a pumpkin?" Brilliant! I have never seen that before, but he told me his mom has done it before. I thought this was such a cool idea, so today I went to Safeway and bought some pumpkins. I also decorated the tops with "spider webs" using cream (see tutorial in the instructions part of the recipe). Here are some things I learned during the process of making the pumpkin soup from scratch:
1) You don't need to buy the biggest pumpkin in the patch…a medium one will do just fine.
2) Wear gloves.
3) After watching a "How to Skin a Pumpkin" video on YouTube, don't think you can do it in 3 minutes too since it looked so incredibly easy when the pro chef did it…oops.
4) Dedicate at least 20 minutes for wrestling with your pumpkin, trying to cut all the skin off, scooping out the seeds, and chopping it up.
Sooo although this was one of the more challenging dishes I've made, in the end it was SO WORTH IT. My husband and I both agreed this has been the best soup I have ever made. Too bad it involves so much work, but pumpkin soup from scratch tastes 1000000000x better than just using canned pumpkin. Its amazing.

Coconut Pumpkin Soup
Ingredients
1 tbsp vegetable oil
1 onion, chopped
2 cloves garlic, minced
2 carrots, peeled and chopped
3¼ cups chicken broth
4 cups freshly chopped pumpkin
1 cup coconut milk
1 tbsp sugar
⅛ tsp cayenne pepper
Pinch of ground ginger
For spider web topping
6 tbsp sour cream
2 tbsp milk
Plastic squeeze bottle
Instructions
Heat vegetable oil in a large heavy bottom pot over medium heat.
Chop onion and add to pot.
Add minced garlic, then turn heat down to low. Simmer until translucent (about 7 minutes). Stir occasionally.
Wash, peel and chop carrots and add to pot.
Skin pumpkin (YouTube a video for the "easiest" way, but be patient...), then slice in half and use an ice cream scooper to remove the pulp and seeds (keep the seeds for later use, yum!).
Chop the pumpkin until you reach 4 cups, then add to the pot.
Add chicken broth, sugar, cayenne pepper and ginger, then stir.
Cover and bring to a boil, then turn down heat the medium and let boil for about 30 minutes (pumpkin should be soft).
Remove from heat and let cool 5 minutes, then transfer to a blender using a ladle (you may have to transfer half at a time) and puree. I pulse the second portion to give it a little more texture.
Transfer pumpkin puree back to pot and stir in coconut milk. Reheat on low if needed.
For spider web topping, add sour cream and milk to a plastic squeeze bottle and shake well. When you turn it over only one or two drops should come out slowly, then you have the right consistency. Add more sour cream to thicken if needed. Then, slowly draw a few circles on the soup and use a wooden stick or small straw to squiggle lines from the center out, pulling the web out.
Makes 4 servings
This post is sponsored by: