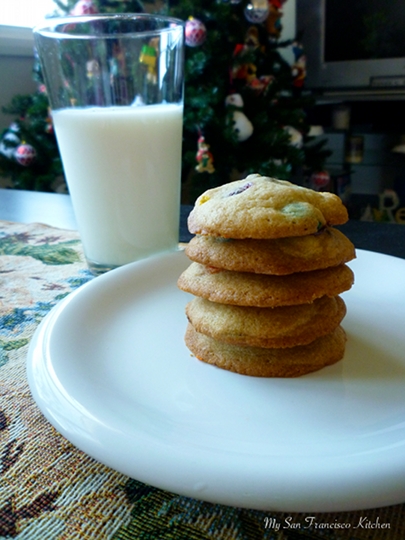 Yes its finals week and yes I am supposed to be studying, but I needed a break! I went to the gym on a break yesterday, and today I baked these M&M chocolate chip cookies, so hopefully the two will balance out 😉 This is a classic cookie recipe that I always baked with my mom growing up, and on Christmas Eve we would "leave some out for Santa". For the holidays, try using the Christmas red & green M&Ms.

M&M Chocolate Chip Cookies
Ingredients
1¼ cups all-purpose flour
¼ tsp salt
½ tsp baking soda
½ cup unsalted butter, softened
½ cup packed brown sugar
¼ cup granulated sugar
1 egg
½ tsp vanilla extract
1 package M&Ms
¼ cup semisweet chocolate chips
Instructions
Preheat oven to 375º F.
In a medium sized bowl, mix flour, salt, and baking soda with a whisk or fork and set aside.
Cream butter, brown sugar, and granulated sugar together in a stand alone mixer on medium speed.
Add vanilla, then egg and mix until blended.
Add flour mixture a little at a time and blend on low speed.
Remove bowl from mixer, and add chocolate chips and M&Ms. Mix with a spoon by hand.
Drop 1 tsp sized balls of dough on a cookie sheet, and place in refrigerator for 5 minutes.
Bake for 10-12 minutes, or until bottoms turn golden brown. Do not wait too long to remove from oven or they will be too hard.
Let sit 1 minute, then transfer to cooling rack.
Makes 20 cookies.