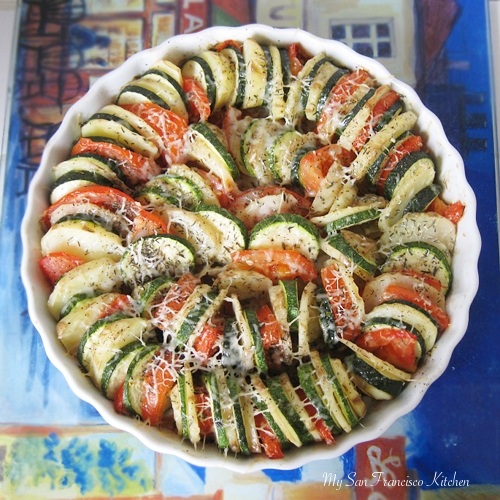 Recently, I have been trying to go more vegetarian with my diet (see my blurb on animal cruelty in the "resources" section). This Vegetable Tian recipe is a wonderful vegetarian dish and it is very flavorful. It has zucchini, tomatoes, potatoes, onion, garlic and is seasoned with thyme, pepper, olive oil, and a little bit of Parmesan cheese. I haven't quite figured out what to serve it with, but it is pretty filling on its own. Perhaps some french bread? I have seen other recipes use breadcrumbs, which I will try next time I make this healthy dish. What is your favorite vegetarian recipe? I need some more ideas 🙂
Recipe adapted from Barefoot in Paris, 2004.

Vegetable Tian
Ingredients
½ yellow onion, sliced
2 fresh garlic cloves, minced
2 russet potatoes or 4-5 gold potatoes, peeled
2 large zucchini
2 tomatoes
½ tsp salt
½ tsp black pepper
1 tbsp thyme
½ cup fresh Parmesan cheese, grated
Olive oil
Instructions
Preheat oven to 375 degrees F.
Wash, peel and slice vegetables.
Saute onions and garlic in heated olive oil in a medium skillet for 7 minutes.
Add onions and garlic to the bottom of a pie dish, and layer sliced vegetables around in 3 circles.
Season with salt, pepper, thyme, and drizzle 1-2 tbsp olive oil over the top.
Cover with aluminum foil and bake for 35 minutes.
Sprinkle Parmesan cheese over and bake uncovered for another 30 minutes.

Let cool briefly before serving.

This post is sponsored by: