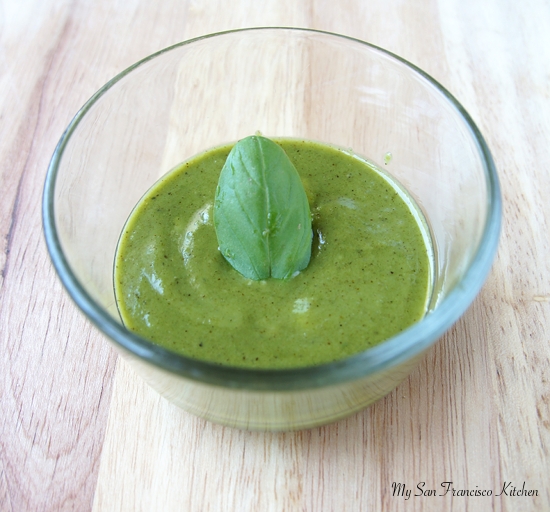 Don't laugh at me…I just found out pesto sauce is made with basil leaves. I'm serious! You are probably asking, "Well, what did you think pesto sauce was made of?!". Each time I enjoyed a delicious pesto pasta meal in college (the first time I tried pesto) I just never wondered. Today I wanted to try a new chicken pesto pasta recipe [which I will post sometime this week], because lately we have been eating a lot of tomato sauce pasta dishes and I thought it would be fun to change it up. So I get home from Trader Joes, and I FORGOT THE PESTO SAUCE! Grrrr! Don't you hate when that happens? Then I got to wondering how hard it would be to make homemade pesto sauce. I searched the internet for some recipes, and what do you know, its made mainly of fresh basil leaves. My basil tree has miraculously survived the last few months (all the others I have had died within only 1), but I really needed to start using some of those basil leaves before it decides to croak on me. Perfect! I saw some recipes that called for pine nuts – huh? I have never seen pine nuts at any grocery store I have ever been too … then again, I never really looked for them. Some of the recipes used walnuts instead, which I happened to have, so I just used those. It turned out to be the best pesto sauce I have ever had. Well, that's usually true for anything homemade 😉 My husband scarfed it down in under 5 minutes and asked for seconds. Looks like this recipe is definitely a keeper! And I never have to buy storebought pesto again – its soo easy!

Ingredients
1 cup fresh basil leaves
½ cup chopped walnuts
2 tbsp grated Parmesan cheese
1 large garlic cloved, peeled
⅓ cup olive oil
Salt and pepper as desired
Instructions
Wash basil leaves.
Add all ingredients to a small magic bullet cup, blender, or mini food processor and blend until well blended.
Taste and add salt and pepper as needed.
Makes ½ cup pesto sauce (enough for 2-3 servings of pasta)
This post is sponsored by: