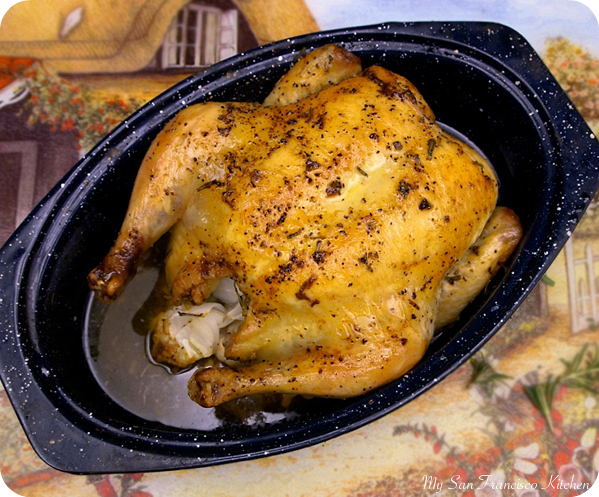 I did it! I successfully cooked my first whole chicken. This probably sounds ridiculous coming from someone who is obsessed with food and cooking, but I have a fear of cooking whole chickens, turkeys, ducks…basically, whole ANYTHING that once roamed this earth. Its true…I leave it up to restaurants for these types of dishes! I've always told myself, "Someday I'll learn…"
Luckily, I have two amazing cooks in my family back home in southern California – mom and grandma! This weekend I took a trip to see them for my brother's birthday dinner, and my mom had the idea of roasting a whole chicken. I thought this was the perfect opportunity to learn from her expertise and do it with her. I was able to stomach it, although just barely, and found that it was actually quite easy to do! We bought a chicken that came neatly packaged with the "hard part" already done for us, so all we had to do was season and stuff it. I still feel a little scared cooking one by myself, but I am pretty sure I can do it now! Glad that has been checked off my list 🙂 This roasted rosemary chicken came out so tender and DELICIOUS, I was so surprised at how easy it was to cook.
I hope you had a great weekend!
Roasted Rosemary Chicken
Prep time:
Cook time:
Total time:
Ingredients
1 whole organic, free-range chicken
1 tbsp olive oil
4 cloves garlic
1/4 cup chopped fresh rosemary
1 onion, quartered
1 tbsp kosher salt
Ground black pepper, to taste
Instructions
Preheat oven to 350 degrees F.
Rinse the chicken and remove the giblets from the inside of the chicken (if you are lucky, this comes in a neatly packaged bag that you can easily remove).
Rub the chicken with olive oil, 2 cloves of minced garlic and kosher salt all over the outside. [img src="http://mysanfranciscokitchen.com/wp-content/uploads/2013/01/chicken-1.jpg" /]
Sprinkle with ground black pepper and 1 tbsp of chopped fresh rosemary. [[img src="http://mysanfranciscokitchen.com/wp-content/uploads/2013/01/chicken-2.jpg" /] [br] [img src="http://mysanfranciscokitchen.com/wp-content/uploads/2013/01/chicken-3.jpg" /]
Peel and chop the onion into four equal pieces and place inside of the chicken, along with the remaining chopped rosemary and 2 cloves of garlic. [img src="http://mysanfranciscokitchen.com/wp-content/uploads/2013/01/chicken-4.jpg" /]
Place the chicken in a roasting dish and bake in the oven for 2 to 2 1/2 hours, until juices run clear and the internal temperature reaches 165 degrees F. [img src="http://mysanfranciscokitchen.com/wp-content/uploads/2013/01/chicken-5.jpg" /]
Use a brush to gently brush the chicken with the juices in the roasting pan.
Place the chicken breast-bone side up and cut the wings first.
Next, pull the legs away from the body and cut them off.
Next, remove the breasts and remaining rib meat. [img src="http://mysanfranciscokitchen.com/wp-content/uploads/2013/01/chicken-pieces.jpg" /]
This post is sponsored by: