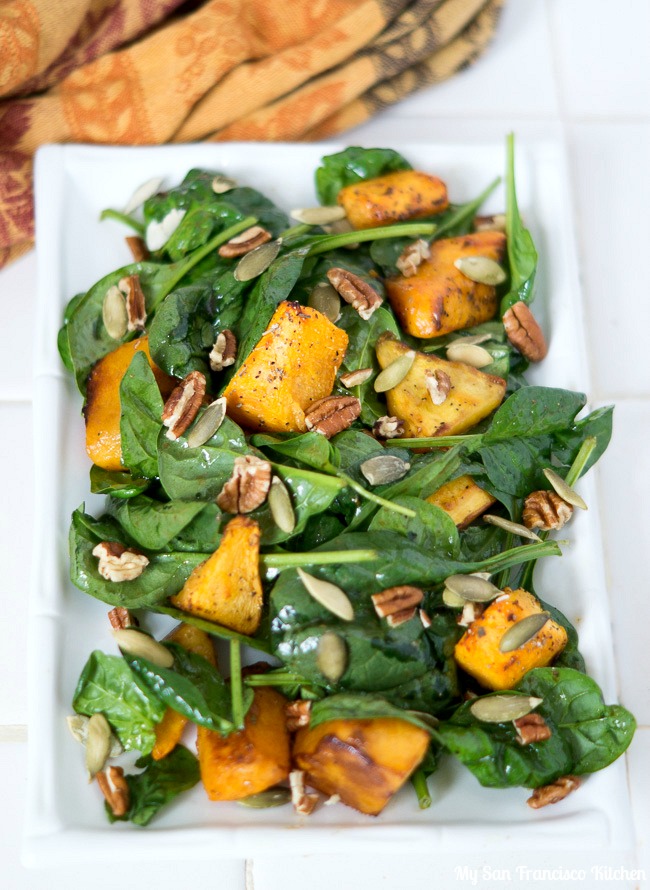 Today is a rainy Fall day in San Francisco.
I woke up to the sound of rain drops hitting my window, and it was so relaxing I didn't want to get out of my warm bed! It hasn't rained here in California very much in a long time, so whenever it does, it is special.
My rainy day check list includes: slippers, blanket, hot cup of tea, scones, staying cozy indoors all day, and maybe baking something delicious. Want to join me? 
Last night I went to my spin class, and my instructor was much more energetic than usual. I feel like the program got 10x harder since the last time I went to this class >.< I was totally drained after the class, but at least had an amazing workout and felt accomplished when I got home!
I was trying to wait until October to break out the pumpkin recipes, but it's only one more day, right?! I have been seeing so many yummy pumpkin baked goods on the internet already this time of year, so I decided to try and make a healthy Fall pumpkin salad dish to balance out the sweet pumpkin and apple goodies I will be probably end up eating.
This Fall pumpkin salad is really simple and easy to make for a quick lunch or side to your dinner. I actually made it with roasted butternut squash, which I hear in New Zealand and Australia is also called a "pumpkin." To save time, check if your grocery store carries chopped butternut squash that is ready to go. I am lucky that my Trader Joe's carries it already chopped! If not, you can't beat freshly chopped butternut squash. Just season with salt, pepper and fresh or dried sage and roast in the oven for 15 minutes at 425 degrees F. In the meantime, you can blend up the balsamic honey dressing and toss it with the spinach, pumpkin seeds and chopped pecans for your Fall pumpkin salad.
I was thinking…there is a Thanksgiving dinner and a Christmas dinner, but why not a Halloween dinner? This roasted pumpkin salad would be perfect for a Halloween dinner, don't you think?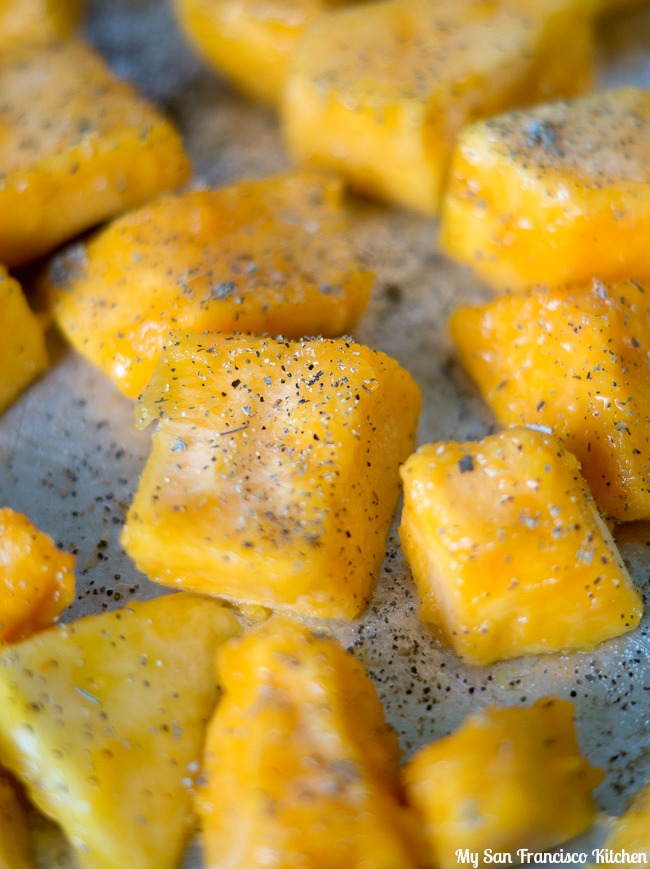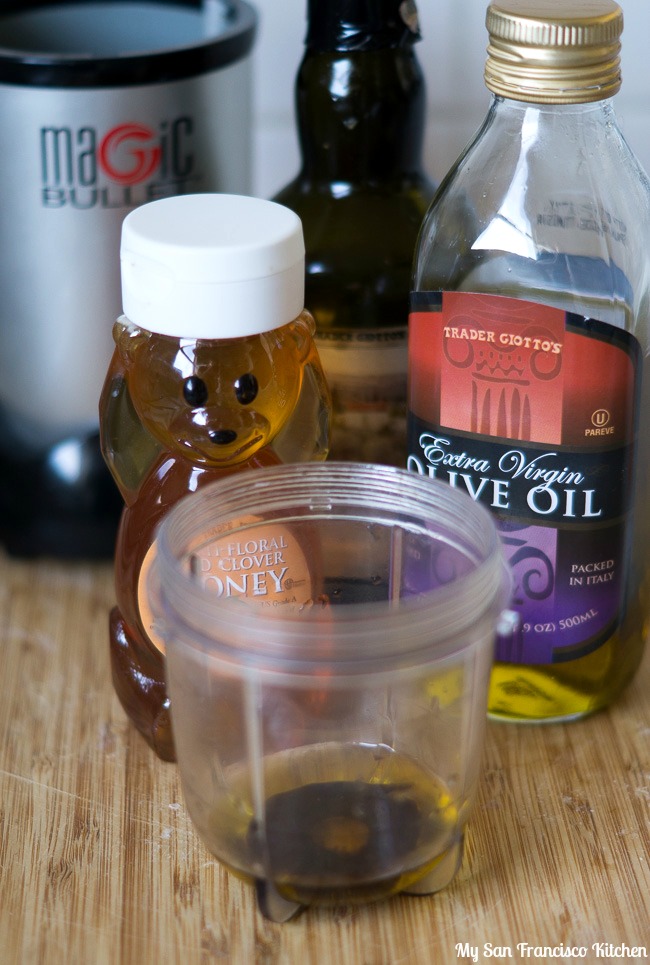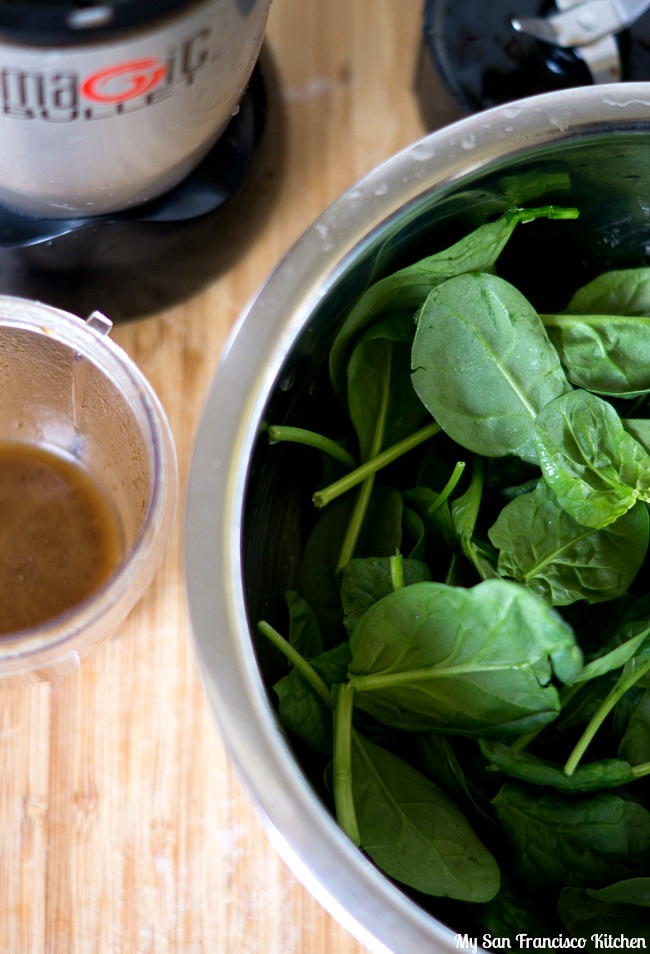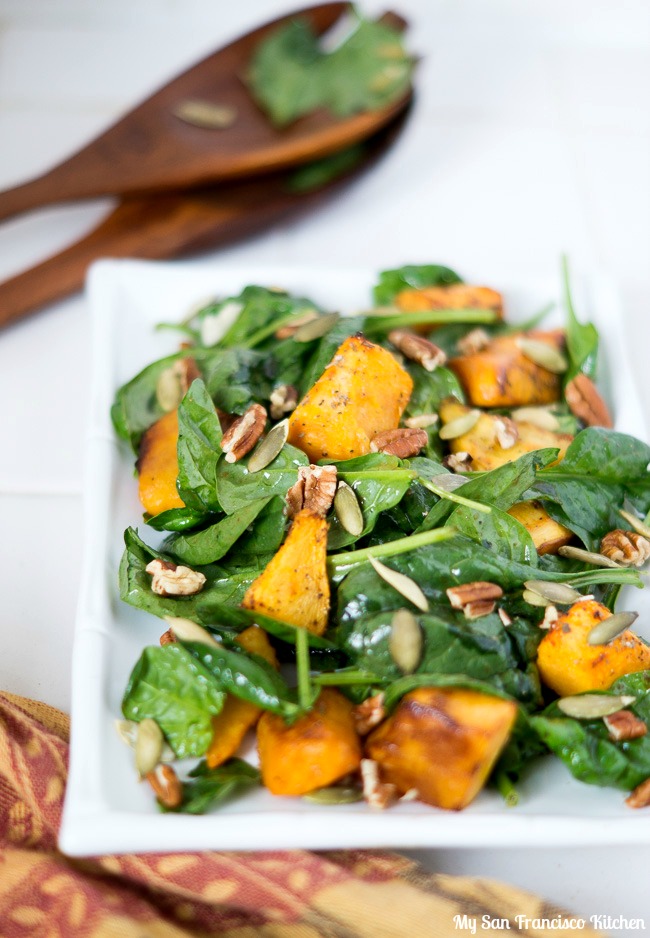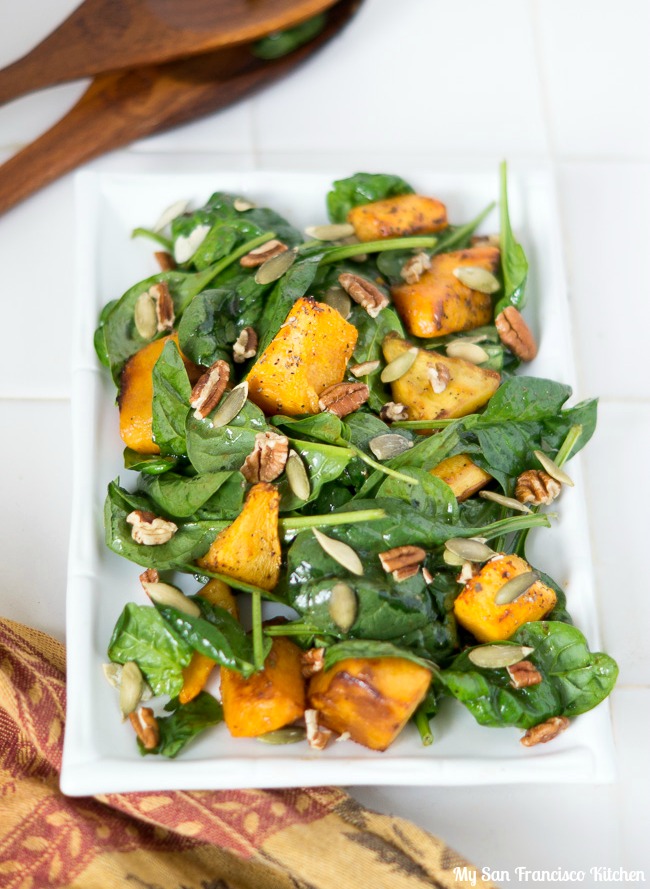 Fall Pumpkin Salad
Ingredients
2 cups chopped butternut squash
½ tsp dried or fresh sage
¼ tsp pepper
¼ tsp salt
4 cups raw organic baby spinach
¼ cup chopped pecans
¼ cup raw roasted pumpkin seeds
3 tbsp olive oil
1 tbsp balsamic vinegar
1 tbsp honey
Instructions
Preheat oven to 425 degrees F.
Toss the butternut squash with the salt, pepper and sage and transfer to a greased baking sheet. Bake in the oven for 15 minutes.
In the meantime, add the olive oil, balsamic vinegar, and honey to a blender or dressing curet and mix well.
Toss the spinach, pecans, and pumpkin seeds with the dressing in a salad bowl.
Top with the roasted butternut squash and toss before serving.
Makes 2 large salads or 4 side salads
Did you make it? I'd love to see! Snap a pic and share via #mysanfranciscokitchen, or tag my social media sites!